Beat Movie Guide
(dramatizations, not documentaries)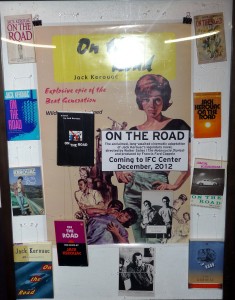 With not one, not two, but three movies based on Jack Kerouac books coming out this year (2013) it makes sense to make sense of the world of cinematic dramatizations based on Beat works.
Since real people are given different fictional names in every movie, for clarity I've stuck with the original names of the people the characters are based on.
Pull My Daisy — 1959 — a filming of act 3 of Jack Kerouac's "The Beat Generation" play/screenplay;  perhaps the single greatest Beat Generation creation ever made — Jack's narration is the best audio he ever laid down, set to a jazzy world-beat score, and the Beat badboys filmed in their prime by a visionary cameraman, in a typical New York City apartment where the whole movement was born — dir. by Robert Frank & Alfred Leslie — starring Gregory Corso as Jack; Allen Ginsberg as himself;  Larry Rivers as Neal Cassady;  and Delphine Seyrig as Carolyn Cassady.
* This once uber-rare film is now on YouTube and you can experience the entire masterpiece right here.
The Beat Generation — 1959 — ridiculous Hollywood exploitation B-movie;  no connection to the Beats except the title and the goateed stereotypes — dir. by Charles Haas — but it actually has a Louis Armstrong performance! and Jackie Coogan (best known as The Kid in Charlie Chaplin's "The Kid" and Uncle Fester in "The Addams Family" TV show); Vampira as the female Beat poet and whose image is used on the posters;  and Mamie Van Doren (the stage name of a B-movie Marilyn Monroe, who Jack actually described his first wife Edie as looking like in Vanity of Duluoz, and no relation to the esteemed poet/author/editor/Columbia professor Mark Van Doren or his quiz show scandalized son Charles).
Here's a 4-minute clip, and another one minute.
The Subterraneans — 1960 — god-awful white-washed & neutered version of Jack's novel with the black girlfriend turned into a French girlfriend (!?) — dir. by Ranald MacDougall — starring George Peppard as Jack; Leslie Caron (best known for "Gigi" and "An American In Paris") as "Mardou"; Jim Hutton as Ginsberg;  Roddy McDowell as Corso!  Arte Johnson as Gore Vidal;  and a musical appearance by Carmen McRae backed by Gerry Mulligan, Art Pepper, Art Farmer and Andre Previn!
Here's a scene with some of the jazz with Gerry Mulligan & company.
Beat Girl (aka Wild For Kicks) — 1960 — Britain's entry in the cheap exploitation field;  no actual connection to the Beats except the title and base stereotyping — dir. by Edmond Greville — curious for its bit parts by a young Christopher Lee and Oliver Reed.
Here's the entire movie on YouTube!
Beany & Cecil — Wildman of Wildsville — 1961 — Since no film festival would be complete without at least one cartoon short, take a break from the serious and enjoy this satire of all things Beat — with none other than the immortal Lord Buckley voicing the lead beatnik, Go Man Van Gogh.
Full six-minute cartoon here.
Route 66 (one-hour dramatic TV series) — 1960–64, airing Friday nights on CBS — obviously "inspired by" / ripped-off from Jack's "On The Road" — two young men (an outgoing orphan and a bookish New England Ivy Leaguer who recently lost his father, hmmm), drive around the country having adventures while looking for the meaning of life (Hollywood is nothing if not original!) — shot almost entirely on location around North America — 3/4 of the episodes written by show creator Sterling Silliphant (who'd later win an Oscar for writing "In The Heat Of The Night") — starring George Maharis and Martin Milner (who narrowly beat out Robert Redford for the role).
Here's the opening of the very first episode — with George Kennedy and 2001′s Keir Dullea!  Here's part 2, part 3, part 4, and the conclusion.
Here's the entire 3rd episode — all filmed in New Orleans in 1960! Unreal footage!
There's tons of other entire full episodes you can find on YouTube.
Heart Beat — 1980 — based on an early pre-publication excerpt from Carolyn Cassady's "Off The Road," who has never wavered in her utter disdain for the production and refers to it as "Heart Break";  there's loads of Beat history inaccuracies, and it's definitely a liberty-taking fictionalization, but it's also a capturing of the era, and the acting and casting are pretty good;  it's commonly praised for its art direction, period details and Jack Nitzsche's cool score, and criticized for its melodramatically silly script;  also notable for 3 weird cameos:  Jack's daughter Jan is the smoking girl in a white dress sitting in the cafe/bar around 11 minutes into the movie in the scene that begins with Cassady/Nolte tipping out of his chair onto the floor; John Larroquette in his first ever film role playing an obnoxious TV talk show host interviewing Jack;  and director David Lynch appears briefly as a painter — dir. by John Byrum — starring Sissy Spacek as Carolyn;  Nick Nolte as Neal;  John Heard as Jack;  Ray Sharkey as Allen;  and Ann Dusenberry as LuAnne.
Here's the opening of the movie followed by a collage of different scenes.
Here's the first 15 minutes (1) that comes after the opening sequence.
and then the next 15 minutes (2) — Jack writing, hanging with LuAnne; then with Allen in NY and SF.
and then the next 15 minutes (3) — at the jazz club in SF, Neal & LuAnne, Neal proposes to Carolyn.
and the next 13 minutes (4) — moving to the suburbs, meeting the neighbors, Jack shipping out then returns to the Cassadys, brings black hooker home.
and the next 13 minutes (5) — Jack & Carolyn go for it, the 3 of them living together.
and the next 13 minutes (6) — Jack sells OTR and gets famous and drunk.
and the next 11 minutes (7) — Beatnik cafe cliche, Neal gets busted, then with the Pranksters.
and the final 6 minutes (8) — final scenes and credits.
Note:  Jack's only child Jan appears in the "first 15 minutes (1)" clip in the white-walled café/bar scene that begins with the Nolte/Cassady character tipping over out of his chair starting at 8:15.  Jan is the girl in the white dress sitting along the wall on the right smoking.  In her book "Trainsong" she wrote in chapter 22, "In September I was offered the job as an extra in Heart Beat, a movie about my father's menage-a-trois with the Cassadys. … The Acropolis Cafe was just the place for a beat generation coffeehouse scene: a Greek restaurant in downtown L.A., unchanged since the thirties.  …  My job was to sit at a table where two guys were playing chess:  to follow their moves like a cat, to look mildly bored, … and to puff like mad on Camels to produce a thick, smoke-filled atmosphere."  If you watch it on a screen larger than a computer's, you can see that the two men at the table with her are indeed playing chess — especially visible in the 3rd and final shot of them, starting 9:37.  Further, you can see a photograph of The Acropolis Café right here, confirming that this scene was shot at that location and therefore is the scene with Jan.
Naked Lunch — 1991 — successfully surreal adaptation of the Burroughs novel, and the first remotely popular "Beat" movie;  shot entirely in Toronto by Canadian director David Cronenberg, it swept the Canadian film awards taking home 7 Genies, including Best Picture, Director and Cinematography — starring Peter Weller as Burroughs;  Judy Davis as Joan Vollmer;  Nicholas Campbell as Jack;  Michael Zeiniker as Allen;  and Roy Scheider as Burroughs' recurring Dr. Benway character.
You can see the trailer for the movie here.
Here's the opening credits artwork.
Here's a 3 minute clip where Bill Lee is having a conversation of telepathic conversation.
The Last Time I Committed Suicide — 1997 — a really well made film based on Neal Cassady's famous and influential Joan Anderson/Cherry Mary letter to Jack (written Dec. 1949) about events around Christmas 1945 before Neal had met any of the other soon-to-be Beats — dir. by Stephen Kay — starring Thomas Jane as Neal.  Also starring Keanu Reeves, whose commitment got it funded, playing a sorta kinda Jack-like buddy;  and an early film appearance by Adrien Brody as a sorta kinda Allen character, even though Neal didn't know either of them when the story took place;  as well as a young Gretchen Mol, Amy Smart, and Clair Forlani as Joan.
Of note — Carolyn Cassady said Thomas Jane was the closest to Neal she ever saw on screen.
Here the trailer.
Here's Neal and his friend Harry (Keanu Reeves) drunk at a bar.
Here's a great sequence where Neal gets out of jail and goes for a run — featuring the swingin' soundtrack by Tyler Bates who went on to score a ton of other movies.
Beat — 2000 — a not-well-received-on-any-level composite dramatization of Bill Burroughs' time in Mexico including the killing of Joan — dir. by Gary Walkow — starring Kiefer Sutherland as Burroughs; Courtney Love as Joan Vollmer;  Ron Livingston as Ginsberg;  Daniel Martinez as Kerouac;  and Norman Reedus as Lucien Carr.
Here's the trailer.
Here's an even cooler trailer.
Here's a trailer narrated by the Allen character.
Here's a brief scene with the Allen and Lucien characters.
Here's a 5-minute collage of various Lucien & Joan scenes.
The Great Sex Letter — 2006 — a visual dramatization set to a reading of Neal Cassady's letter of March 1947 to Jack Kerouac that Jack dubbed "the great sex letter."  Despite the film's inaccuracies — like the person receiving it appears to be Allen not Jack — this low-budget 7-minute indi effort is notable for being the earliest Beat writing ever interpreted on film.  The film begins in silence, then the only audio you hear is the reading of Neal's words set to music by Charles Mingus.
You can experience the complete short film here.
Neal Cassady — 2007 — a well-intentioned low-buddget ($1 million) dramatization beginning in B&W with Jack & Neal in the 40s, then goes to color for the late 50s and psychedelic Kesey years;  it would be easy to call it bad, and many of people do, but there's lots of interesting little accurate details  — dir. by Noah Buschel — starring Tate Donovan as Neal (who a lot of people including me think did a pretty good job);  Amy Ryan as Carolyn;  Glenn Fitzgerald as Kerouac;  and Chris Bauer as Kesey.
Here's the trailer.
Howl — 2010 — about the publication and censorship trial of Ginsberg's poem, with a transcendent performance of Allen by James Franco;  includes animation sequences interpreting the poem, a courtroom drama of the trial, and Franco's uncanny Ginsberg reading and reflecting on the poem, the trial, and his life — dir. by Rob Epstein & Jeffrey Friedman — starring James Franco brilliantly as Allen;  Todd Rotondi as Jack;  Jon Prescott as Neal;  Andrew Rogers as Ferlinghetti.  Also featuring performances by Jeff Daniels, Jon Hamm, Treat Williams, Bob Balaban, David Strathaim and Mary-Louise Parker.
Here's the trailer.
Here's the great "Holy" riff — the Footnote to Howl.
Here's the Allen character talking about how to write poetry.
Here's the Allen character talking about how he writes.
Here's the Allen character talking about commitment to writing.
Here's the part where Allen meets Peter.
Here's 4 different clips — Rockland, Allen talking, the trial.
Here's a clip about Allen moving to SF and getting a straight job.
Here's the clip about Allen talking about his first night with Neal.
Here's the 1st Howl poem animation sequence.  Here's the 2nd.  Here's the 3rd. Here's the 4th.  Here's the 5th.  Here's the 6th — Moloch.  Here's the 7th— with you in Rockland.
And here's a really cool thing — James Franco talking about how he got Allen's voice down, and they made the movie and wrote the character.
On The Road — 2012 — film version of the iconic novel finally hit the screen 65 years after the adventure, 61 years after the Scroll was written, 55 years after publication, 33 years after Coppola bought the rights, and 8 years after the director Walter Salles was approached;  over 60,000 miles covered in the filming;  ironically it took an international consortium to get this Great American Novel filmed — a Brazilian director, French producers and cinematographer and editor, British actors, Argentineans doing the art direction and score composition, a Puerto Rican screenwriter, and it was mostly filmed in Canada — dir. by Walter Salles — starring Sam Riley as Jack;  Garrett Hedlund as Neal;  Kristen Stewart as LuAnne;  Kirsten Dunst as Carolyn;  Tom Sturridge as Allen;  Viggo Mortensen as Bill;  Amy Adams as Joan;  Danny Morgan as Al Hinkle, and Elisabeth Moss as Helen Hinkle.  Also includes surprise appearances by Steve Buscemi, Terrence Howard, and Coati Mundi as Slim Gaillard.
Here's the amazing Cannes press conference — absolute required viewing for anyone interested in this movie.
Here's the cool trailer.
Here's three minutes from early in the movie where Sal & Dean are talking about their missing fathers, into Dean parking cars.
Here's the new year's eve party dancing scene.
Here's Marylou and Sal in the car.
Here's Sal & Camille dancing together to Ella Fitzgerald in the roadhouse.
Here's the jazz club scene with Terrence Howard (with overdubbed German dialog).
Here's the benzedrine inhaler party scene (with overdubbed German dialog).
Here's Sal first going on the road (with overdubbed German dialog).
Here's Sal beginning to write On The Road (with overdubbed German dialog).
Here's the six deleted scenes that are included on the French DVD as Extras.
Big Sur — 2013 — the second major Kerouac novel filmed in as many years, and bizarrely it's the 180 degree counterpoint to Jack's optimism of "On The Road";  all shot on location in Big Sur and S.F. — dir. by Michael Polish — starring Jean-Marc Barr as Kerouac;  Anthony Edwards as Ferlinghetti;  Josh Lucas as Neal;  Radha Mitchell as Carolyn;  Balthazar Getty as McClure;  Patrick Fischler as Lew Welch;  Henry Thomas as Philip Whalen;  and Stana Katic as Lenore Kandel.
Here's the trailer.
Kill Your Darlings — 2013 — Allen Ginsberg's coming of age story from entering Columbia through the David Kammerer killing, which was the subject of the early Kerouac/Burroughs co-authored novel "And The Hippos Were Boiled In Their Tanks";  the film's title comes from the William Faulkner line, "In writing, you must kill your darlings," meaning you sometimes have to delete your favorite passage for the betterment of the story — dir. by first-timer John Krokidas — starring Daniel Radcliffe as Ginsberg;  Dane DeHann as Lucien Carr;  Jack Huston as Kerouac;  Ben Foster as Burroughs;  Michael C. Hall as David Kammerer;  Kyra Sedgwick as Lucien's mother;  Elizabeth Olson as Edie Parker;  and Jennifer Jason Leigh and David Cross as Ginsberg's parents.
For a detailed review from its premiere at the Toronto International Film Festival go here.
========================================================
The Duluoz Legend sequence of films (so far) would be:
Kill Your Darlings — set 1944  (released 2013)
The Last Time I Committed Suicide — set 1945  (released 1997)
Heart Beat — set 1946-66  (released 1980)
On The Road — set 1947-49  (released 2013)
Beat — set 1951  (released 2000)
Pull My Daisy — set 1955  (released 1959)
Big Sur — set 1960   (released 2013)
=========================================================
For an excerpt from my book about the '82 Kerouac Conference in Boulder — check out Meeting Your Heroes.
For more from the Boulder Beat Book — check out Who All Was There.
For a vivid account of being at the historic "On The Road" scroll auction — check out The Scroll Auction.
For a story about the London "On The Road" premiere at Somerset House — check out this sex, drugs & jazz.
For a wild story of the world premiere of the new shorter final version of "On The Road" — check out this Meeting Walter Salles Adventure! 
For my review of the premiere of the most recent movie — here's the "Kill Your Darlings" review.
For a story about Henri Cru's birthday — check out The Legend Turns 70.
For a poem to Carolyn Cassady on her birthday — check out the Carolyn Cassady Birthday Poem.
For an account of the historic Beat show at the Whitney Museum in New York — check out Wailin' at the Whitney.
For an inspiring description of being at a Beat jazz-&-poetry reading in Greenwich Village — check out Be The Invincible Spirit You Are.
==============================================
by Brian Hassett
karmacoupon@gmail.com            BrianHassett.com