.
.
Following the climactic election eve rally of the 2020 New Hampshire primary with Bernie Sanders at a hockey arena  . . . 
The most extraordinary thing happened when it was over.  As the thousands of kids streamed out of the arena, right next to it was a big outdoor skating pond, and in the joy of the frozen midnight moment in New Hampshire, students began climbing over the fence and figure skating on it without skates.
Here were the children of the euphoric night, inspired by a politician to dance the light fandango, waving blue Bernie signs as their batons — running and sliding, cheering and laughing, pirouetting in moonlight, and celebrating their first brush with democracy.
Bernie's rock star rally had flashed me back to Gary Hart and 1984 — but this was taking me all the way back to my childhood in Winnipeg and going for skates in the early darkness of winter nights on a pond full of happy people in a tranquil town reveling in the simple pleasures of frozen water.
Snowbanks surrounded the ice, everyone's breath was visible in the misty night, cheeks were turning rosy, and strangers were hugging strangers in a land where they let the children hug.  Democracy had played out for the last week in New Hampshire, and now voters were out playing in the last hours before tomorrow's voting.
I'm the guy who spots a cool assemblage of friends and wrangles everyone together to get a group photo, but I didn't know anyone here, and everyone was spread out all over the ice.
And then the next amazing thing happened.
You know those sprawling group photos taken at center ice when an NHL team wins the Stanley Cup?  And you know who Wayne Gretzky is?  Did you know he invented those?
It was when he won his last Cup with the Oilers in 1988 at a game in their Edmonton home town — their fourth in five years. After the players had skated around the rink hoisting the Cup above their adrenaline heads, Captain Gretzky grabbed it back and suddenly started waving the players to center ice to take a group shot with the authentic sweat and victory joy still fresh on all their faces.  First it was just the core players, but more and more trainers & coaches & managers and all the people who made the team work came running from the sidelines sliding into the group.
Well, that very scene played out on the frozen pond with this team celebrating the Sanders Cup on home ice.  First, about a dozen friends gathered for a group shot, and I ran over in the role of photographer to capture their collective joy, including because there wasn't a single member of press present.  I was it.
And as I snapped at their hooting faces, more people saw what was happening and came shushing across the ice and sliding into them like a cartoon of calamity.  I had to keep backing up to get their ever-expanding team in the frame, and more student photographers with phones joined my press pool.  All that was missing was a big silver Cup in the middle.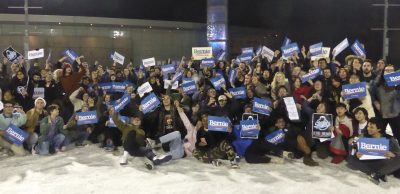 .
From first catching Deval Patrick in a small dark basement room in a library, the New Hampshire primary built to a massive open-air love-in of screaming joy.  This was democracy in action in real time in America.  From old folks gathering in a gym on a Tuesday afternoon to hear Joe Biden to thousands of college kids filling an arena and spontaneously creating their own escapades of Ice Capades, participation in the political process is healthy and thriving.  It's not any one group or one voice, but a collective of choirs singing songs of joy and progress, of innocence and experience — and forever Going Furthur.

=======================================
Here's where you can get Blissfully Ravaged in Democracy book.
Here's the first live show for the book — a Facebook live stream — featuring The Franken Fracas, Obama's election night, Abbie Hoffman, the climactic Bernie rally in New Hampshire & lots of other gems . . . 
Here's some news & reviews about the book.
Here's Beat Museum founder Jerry Cimino's killer Introduction.
Here's some more Adventures like this with even more of a Kerouac feel — The Hitchhiker's Guide to Jack Kerouac.
Here's a podcast about some of the New Hampshire Adventures on the Democrats Abroad show.
Here's another excerpt from the upcoming poli book Blissfully Ravaged in Democracy.
Here's some Adventures from the last time a Democrat was inaugurated as President.
You can hear a recent interview with Democrats Abroad about some of the New Hampshire Adventures here.
=======================================
by Brian Hassett  —  karmacoupon@gmail.com   —  BrianHassett.com
Or here's my Facebook account if you wanna join in there — https://www.facebook.com/Brian.Hassett.Canada