FRIDAY NIGHT DEBATE NIGHT
Friday February 7th was the big nationally televised Democratic debate from Manchester.  I tried every angle to get tickets, but even longtime plugged-in politicos told me they were shut out.  Made me feel a smidge better.
The obvious thing was to go to the DoubleTree Hotel in Manchester.
Manchester's the main city in New Hampshire — population all of 110,000 — has only one main hotel downtown.  It used to be a very cool Radisson, but Hilton took it over in 2018 and frankly it's nowhere near as good as it was during my last primary there in 2004 when there was a massive bar with an overlooking restaurant, and it was a helluva scene.  Now it's all different.
As I walked into the lobby to head to the bar, I noticed a long line going in the other direction.  "What's this?"
"It's a live taping of the Chris Hayes show.  It's the debate-watch, then you have to stay to be in the studio audience until 1."
"Do they serve beer?"
Awkward pause.  "I don't think so."
So I went and checked the lobby bar — and it was so small I had to ask if it was the only one.  The old Radisson had this great bar lined with TVs with all the different news networks on them, plus a big open restaurant space.  All of that was gone and replaced by this small airport lounge type joint in the lobby with two TVs behind the bar … showing sports in the middle of the primary!
This wasn't right.  So I went back over to the Chris Hayes line, and found out everybody had to be registered in advance to be in the studio audience, but I went and talked to the organizers and pitched the idea of filling in for somebody didn't show up, and they let me stand over on the side until the line when through the metal detectors and into the hall — and sure as heck they let me in!
I had no idea what to expect, but they had a free fancy coffee station and were bringing out nonstop boxes of pizza so it seemed to be off to a good start.  Apparently in the complete architectural overhaul of the hotel, they built a massive open exhibition space about an acre in size attached to the hotel that NBC had rented and turned into their "New Hampshire Election Headquarters," broadcasting almost all their MSNBC shows from different studios built throughout it.
Going in, they'd given New Hampshire residents wristbands, and had them all sit in the middle section in front of the Chris Hayes set, so for the post-debate live show he could walk among them to get local undecided voters' reactions to the debate.  (Amy won.)
The two-hour ABC debate was shown on a cube of giant 10′-x-20′ hi-def screens in the center of the massive room, while the All In production crew did different camera blockings and chair markings for the various segments that were all gonna go down live as soon as the debate ended.  Hanging around the perimeter were a bunch of politicos who would end up taking an on-air chair later — Michael Moore, Howard Fineman, Jonathan Alter, Lawrence O'Donnell, Joy Reid, David Corn and others.
The debate itself was the last of the civil exchanges before the gloves came off in Nevada and South Carolina in the coming weeks.  It was also the last one with ol' Andrew Yang, and the last without Michael Bloomberg.  Newly crowned co-frontrunner Bernie Sanders finally started to take some direct challenges on a debate stage, including about what trump was gonna do with Bernie's self-attached label of "socialist" and his history of voting against the Brady Bill and other gun legislation.  Like the experienced politician his base pretends he's not, he deflected & pivoted with the best of them.  His co-winner out of Iowa, Pete Buttigieg, the young "debate team captain" as I like to call him, and the one who can compose complete and complex sentences on the fly better than anyone on the stage, also took lots of incoming, including from Amy Klobuchar about how he said the impeachment hearings were exhausting and how he's rather turn the channel and "watch cartoons instead" — an unfortunate comment from someone who looks not far removed from cartoon watching age.
After his disappointing fourth-place finish in Iowa, Biden picked up his game and was more forceful and articulate than he'd been heretofore.  "We should pin a medal on Colonel Vindman not Rush Limbaugh," he said with fire in his eyes, speaking to both the moment and the room, to great applause.
My Girl Liz has just never caught on and didn't win many converts in this debate.  Particularly Liz, but really all these candidates, do better in the hour-long town halls that CNN and others occasionally host.  Although she'd distinguish herself by coming out swinging in the debates that followed, her attempt at being "the unity candidate" didn't seem to be uniting voters behind her.
I don't know what Tom Steyer's doing on the stage.  I understand his ad buys juiced his polling numbers in a couple states allowing him to qualify, but over the last year talking politics with thousands of people I've never come across a single Steyer supporter.  And poor ol' Andrew Yang.  It felt like it watching, but got confirmed afterwards — both Bernie & Biden had the mic for roughly 20 minutes each, and Andrew Yang spoke for 8.  He's a nice, smart, funny, altruistic, forward-thinking guy — but that and a dollar will get him on the subway.
Which all brings us to Amy Klobuchar who seemed to be the consensus pick for winner of the debate.  She would be rewarded a few days later by a strong third-place finish in New Hampshire and become a poster child for how debates can change momentum.  The first thing I noticed — I know it's absurdly superficial, but — her hair looked great!  I even mentioned it to the woman sitting next to me, about how it oval-arc around her face looked like Jennifer Aniston on Friends, and the woman about Amy's age next to me heartily agreed.  She had a funny line about how "59 is the new 38" to Mayor Pete, and managed to get in that she had been endorsed by the three biggest newspapers in New Hampshire, to go along with the the New York Times dual endorsement of both her and Warren.  And the escalating poetry of her closing statement about empathy brought down the house — the combination of all of which is part of what spiked her up into the top tier of candidates.
As soon as the debate wrapped, the EMT-like production team leapt into action.  The woman director patrolled the perimeter of the giant studio with a headset directing the action.  Her second in command physically directed camera movements with his long arms as a visual to her audio directives, as well as clapped and cued the audience of around 200 when needed.  Chris was center stage reading the intros and outros from the teleprompter but otherwise improvising.  This is his game, his life.  He could riff this stuff till tomorrow and not run out of ideas.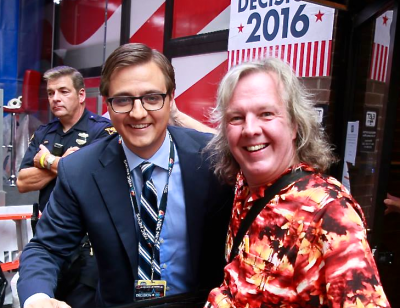 At the 2016 Republican National Convention in Cleveland in 2016
Photo by Jeremy Hogan
In the first segment, he wandered out into the New Hampshire wristband-wearing part of studio audience.  I saw a seat chart on somebody's clipboard with certain aisle seats highlighted — I guess people they'd assessed were articulate and camera-friendly.  "Who do you think won the debate and why?" was the go-to question — and "Amy" seemed the come-back answer.
They did remote interviews with both Amy and Liz that looked like every other cross-country satellite interview — except the two rooms were only two miles apart in tiny Manchester.
The first post-debate panel was the first-line all-stars to open the show — Chris Matthews, Joy Reid, Lawrence O'Donnell, and Alicia Menendez for the Latino perspective.  And then there was another one with David Corn and a couple others it's driving me nuts that I can't remember their names.  And then Michael Moore came out for a fun one-on-one with Chris to close the show.
To be completely confessional I didn't take notes on what they were saying because 1) — It wouldn't look proper as a studio audience member to be sitting there taking notes like a reporter.  They told us "no photo taking during the taping" — that we were part of the show.  This isn't a rally in a gymnasium — we're on-camera extras in a live-broadcast movie.  I can respect that.  And 2) — I figured the whole show (like the debate itself) would be posted to YouTube or the NBC site or something, so this would be one part of The Epic Adventure I could relive later and not have to be committing to memory as it happened.  But I was wrong.  The one gig I thought would be preserved in hi-def in perpetuity doesn't even have notes on paper to show for itself.
After the live show, the audience mostly left, but of course I hung and jammed with the band.  Ol' Michael Moore was hangin' around and we started talking about growing up in the Midwest and how that's so different from the coasts.  And about Canadian healthcare and that Bernie was right to be saying we can do it right 50 miles from his house.  Oh and I told him with a laugh about how I loved that scene in his Sicko movie going to the teller's booth in the hospital in England but how they were actually paying him money.  He's a great storyteller.  And he's on our side.  And that's a good thing.
.
And then there was the whole post-debate hang in the airport lounge bar in the DoubleTree lobby.  This was the jam.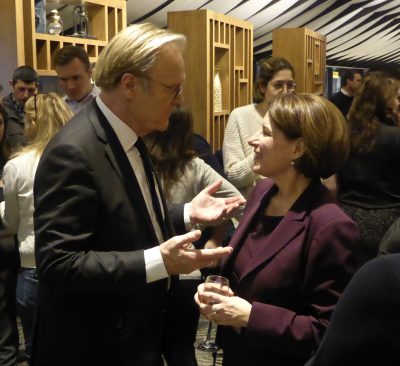 ========================================
.
Here's where you can get the new book Blissfully Ravaged in Democracy book.
Here's the first live show for the book — a Facebook live stream — featuring The Franken Fracas, Obama's election night, Abbie Hoffman, the climactic Bernie rally in New Hampshire & lots of other gems . . . 
Here's a podcast about the New Hampshire Adventures on the Democrats Abroad show.
Here's some news and reviews about the book.
Here's The Beat Museum founder Jerry Cimino's killer Introduction.
Here's some Adventures from Obama's first Inauguration.
Here's what it was like being at the big election party in New York City on Obama's first election night.
Here's a Bernie Sanders Rally Adventure from Bloomington Indiana in 2016.
Here's how I first got into politics — at a Gary Hart rally in NYC in 1984.
Here's the crazy Republican convention Adventure in Cleveland in 2016.
========================================
by Brian Hassett  —  karmacoupon@gmail.com   —  BrianHassett.com
Or here's my Facebook account if you wanna join in there — https://www.facebook.com/Brian.Hassett.Canada