Finding Kesey
.
Following the November 2016 election I knew it was time to get my own house in order.  A year had been lost to a losing campaign, added to five years of On The Road domino-tumbling madness that had passed since my mother had passed in 2011, and there was a lot of work left undone on the homefront.
Since I first saw the treasures of Tutankhamen in London as an 11-year-old I've been in love with archeology, and have practiced it from the deserts of Arizona to combing through mounds of mounds in old Beats' apartments in New York City.  But now I was digging through the layers of my own life.
A few years ago I unexpectedly began an extensive reconstruction of 1982, unearthing old journals and photographs and files and notes and letters as I wrote The Hitchhiker's Guide to Jack Kerouac about the historic Beat summit I attended that summer.  Spent years on the project, all told, as the process spun off to events in San Francisco, New York, Chicago and a thousand other far-flung locales — which then all tumbled into the unprecedented Presidential primary and campaign of 2016.
After burning with Bernie in Bloomington, and marching against the madness in Cleveland, and being on the ground in hometown New York when the Hope Air plane crashed into that hideous black tower on Fifth Avenue, it was time to pull the troops back, return to basecamp, regroup, and refortify.
After years of combing through records for the book, and unearthing 64 photographs among other gems, I was quite sure everything from that life-altering experience had been uncovered.  How wrong I was!
You know your junk drawer?  Every home has one … or three.  The catch-all basin for the occasionally useful flotsam of domestic life.  I've still got one in my original office desk that I began using in the summer of 1981 when I moved into Phyllis & Eddie Condon's apartment on Washington Square North.  That desk is now in the garage in Canada, and while pawing through it the other day, I came across all sorts of old employee badges from the World Trade Center to Rockefeller Center, and folk festivals from Vancouver to Bear Mountain . . . and upside-down at the very bottom of the drawer I lifted up a plastic-covered one and saw —
.
.
I was sure everything in this homebase excavation site had been uncovered.  Then BOOM!  It was 1982 all over again!
"Have to put this in the next edition," I thought, as I stopped whatever I was doing and just let the new gem shine in front of me for a few beers of reflection.
A couple days later, the supply inventory mission had moved on to textiles.  The old uniforms of war & peace.  The past pants of a much younger man.  The parent's clothes that had been too close to home when it was still too close to their passing.
In the "Hiding Out In A Rock n Roll Band" chapter of the book where I take the reader to the Grateful Dead's shows at Red Rocks Amphitheatre during the Kerouac conference, there's a paragraph about an important subculture within the subculture —
And then on a whole other level — there's countless tourheads strolling the scene holding up gorgeous hand-dyed / hand-lived t-shirts for sale, who quickly flipped them around so you could see the back as well.  Asking 15, but they'll take 10.  Some are printed with classic all-purpose Dead lines — "The bus came by and I got on" — and others are customized just for these shows with "Dead Rocks" or "Mountain Dew" along with the dates.
Of course in retrospect I always wished I'd gotten one at those shows — they were so historic and fantastic — and with the book coming out had become some of my favorites of the 120 I saw with Jerry.
Feature my surprise (to use an old Henri Cru phrase) when I went through a drawer of ancient t-shirts from my rock n roll touring days and in between some Yes and Jefferson Starship employee shirts this fell out —
.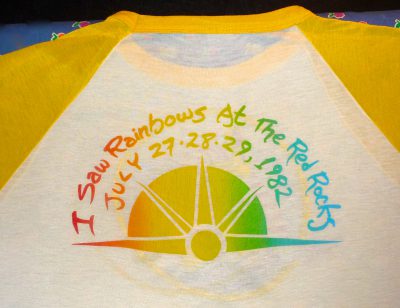 .
The next edition of the book is certainly going to have a few more photos in it!  😀 
This was of course call for another stop-work sit-down-and-stare in disbelief at something else that somehow made it into my blue road backpack that summer — survived all the way back to Vancouver — then all the way to New York — then at some point into a long unexamined drawer at my parent's place.
1982 lives! 😀
.
I don't know about your house, but in ours we always had stashes of stuff crammed in every conceivable corner.  It may have started with parents who grew up during the Depression who'd never throw anything out if they had one square inch to store it in.  This is the materiel supply & support outpost that I find myself padding around in now that the familial soldiers have left the battlefield.
A favorite stash spot in the three houses they had since I was a kid was underneath the basement stairs.  I'm sure it starts with good intentions, but over time it becomes a crammed jigsaw puzzle of items squeezed together with no space in between, and no hope of accessing anything.  By the time I started the long process of unpacking this final covered wagon I found old shotguns, plastic swizzle sticks from bars in cities they lived in in the '50s, cookware unused since The Beatles were still together, dog collars from pets that died in the '70s, Hot Wheels, Legos, Spiderman comics, Hardy Boy books — all in an endless Christmas-morning-revisited series of surprises.
After days of diligent digging, I finally pulled out the final trunk at the very back.  And boy was it one crazy treasure chest of weird stuff!  A top hat collection, plastic toy knights, Creepy Crawlers molds, bags of bizarre old matchbooks, silver goblets — and right on the bottom were a bunch of those big green Lego foundation pieces that you'd build a house or whatever on.  And I noticed they seemed to be sitting on something — not quite flat on the bottom of the trunk.  As I reached down through the bags of stuff and felt what was under there, my fingertips touched a piece of what seemed like packing cardboard.  And I felt a little more and there was a second one.  I thought, "No way!" . . . didn't even allow myself to go to where this might be going.  "Don't even think it."
Perhaps this is a good time to refresh one little passage from the end of the book — when Kesey and I are sitting at the big round dining room table in his house —
We're talkin' about my route outta there, and I said, "Oh yeah, I gotta make a sign.  Do you have any cardboard?"  And we go find a nice piece because — as internalized now — selecting the right size, quality and cleanliness of your cardboard is essential.  As is scripting the calligraphy, of course.  So, I pulled out my trusty elMarko pen still with me since Portland, and started making the sign, and Kesey says, "No, no, you're doing it all wrong."
And he goes and gets s'more cardboard n says with faux anger, "Gimme that," and yanks the pen away and starts drawing this wild "Home to Vancouver" sign with a giant cartoon thumb.  Ha!  "That'll get me home!" I smile, as I hold it up like a rehearsal for my roadside attraction.
I made it home with all of the books he gave me, and to this day still have everything, including the conference poster, my holy notebooks, the cassettes, the ancient-even-then Kodak Instamatic X-15 camera, Brother Tom's t-shirt, and that cool old John Lennon Rolling Stone issue I carried with me everywhere that Ken read from and I had him sign — but speaking of signs, my Mom didn't cotton too well to me hitchhiking, and one Christmas I went home and that Kesey sign wasn't there anymore.
.
Then  —  BOOM!
.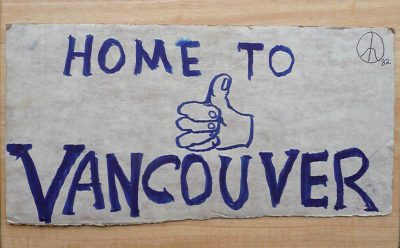 .
There it was!!
I hadn't laid eyes on it in neigh-on 30 years and was sure it was gone for good.
.
And just to go Furthur with that sign-making story in the book — the main thing Kesey didn't like about what I scripted was the big peace sign I put on it.  I think he thought it indicated a flakey hippie.  For me, it was my lucky soul-symbol.  And as you may have read in the book, I had unbelievably good luck on the multiple hitchhiking trips thus far.
You can see it in the couple surviving sign shots from the trip —
.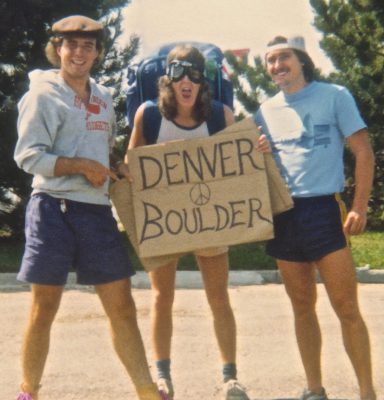 With the legendary Cliff Miller on the left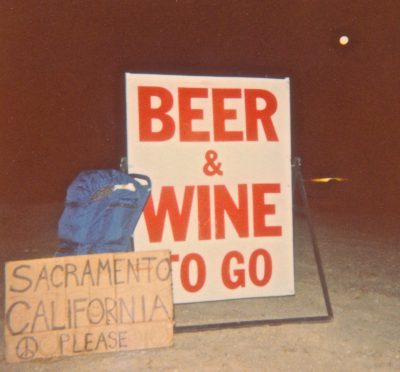 Full moon in Nevada skies, Aug. 4th, 1982
So, after Kesey draws on it and hands it back to me, there must have been a Flair type black felt pen handy, because you can see I had the balls to override the master — drawing a little peace sign up in the corner because I was not about to abandon the mandala that got me this far.  And once I drew it on, tiny as I did, he said from across the Big Table, "Oh, that's okay.  Small in the corner like that's alright."  😀 
And speaking of corners . . . paging Forensic Files — the perp left partial fingerprints at the scene!  In the upper left corner is a super-distinct left thumb print (I'm guessing as that's exactly where you'd hold up the sign to show it to me across the table with his freshly inked fingers).  There's also a couple others — but that upper left one is clear enough to putcha away for life!
And although I stood up to the old man (who was actually younger at the time than I am now!) with my peaceful intentions, young Luke also learned from old Obi-Wan — because the other piece of cardboard my fingers felt underneath the green Lego was the sign I used on the final leg home to Winnipeg.  And unlike every other hitchhiking sign I ever made — there's no peace sign.
"Just to Winnipeg" — in its new place high on a wall with some scored New York street signs and a Dr. Seuss book tower. 🙂
I've been writing and thinking about memory ever since stumbling down this rabbit hole back to 1982.  It's fascinating how one item / photo / remembrance can cause to be retrieved a ton of other thought-erased files from the organic hard drive at the top of our temples.
Not long after my fingers gripped this cardboard for the first time since it was assumed lost in the '80s, I flashed back to how it came to be where it was.
When my folks were moving out of Winnipeg, and trying to reduce costs, although they trucked a lot of childhood memories out to B.C., they drew the line at my cool collection of old foldover Rolling Stones and other Crawdaddy, Creem and Circus magazines, a collection of course I salivate at the thought of today.
The last night before the movers arrived, I'd been out carousing with my friends for one last send-off, came home late as usual, and this unsealed box was at the bottom of the basement stairs.  Buzzed as I wuz, I flipped the flaps to treasure the treasures that weren't making the trip, and there in the mix were the two hitchhiking signs my mother didn't approve of.
"These are important," I remember thinking.  She didn't know.  I barely did.  But a hitchhiking sign drawn by my hero Ken Kesey didn't belong in the leave-behind box.  And since all the moving boxes were taped and she would recognize these things if she found them unpacking on the West Coast, I opened the tickle trunk and managed to hide them on the bottom underneath the Legos — probably the same way that copy of the Declaration of Independence was hidden safely and forgotten behind that painting bought at a flea market in 1989 — the very same year this was hidden away.
In the Spirit of Discovery — may finding buried treasure and having Christmas mornings of surprises be a part of your and all of our lives forever.
.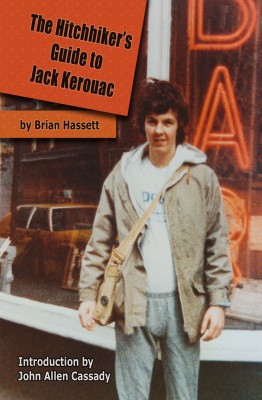 .
= = = = = = = = = = = = = = = = = = = = = = = = = = = = =
The original title that this is an homage to — Finding Casey  🙂
And here's a Kesey excerpt from The Hitchhiker's Guide to Jack Kerouac.
Here's a ton of people's reactions to the book.
Here's a ton more including a bunch of the original Merry Pranksters.
And since they kept flowing in — here's yet another whole ton of them.
You can get the book here in the States — or here in Canada.  
Or the full-color Kindle version's here.
s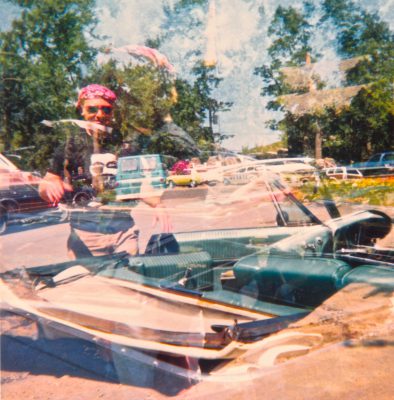 .
= = = = = = = = = = = = = = = = = = = = = = = = = = = = =
by Brian Hassett  —  karmacoupon@gmail.com   —  BrianHassett.com
Or here's my Facebook account if you wanna follow things there —