The Pranksters on A Mission to The Mission
.
.
It's New Year's Eve in the universe
………..and we're on a mission.
The Wizard of Wonder called on Christmas Day.  Seems The Pranksters are needed for a little Merry Jerry conjuring on New Year's Eve in O-Hi-o.  The official good-time resident Grateful Dead-vibed band of the state, Adam's Ale, is having their big album release party, and they're loopin in a few friends to bring it home.
A nice addition to the magic 'n' mystery is — it's being held in a church-cum-theater called The Mission, just down the road from the Football Hall of Fame in Canton — disguised as best you could possibly be by a surrounding buffer of industrial warehouses — in a hidden forbidden green-space under old-growth trees, down by a creek at the end of a road where nobody er nuthin comes snoopin 'cept those invited with an underground wink.
And thus we Merry Pranksters from Indiana, West Virginia, North Carolina, Canada and more roll in for this Woodstockian New Year's in an old performance space with a half-dozen jazz 'n' Dead-friendly bands, and a whole night of magic, madness and mischief.
It was all put together by Adam's Ale bandleader John Welton — the kinda guy who knows all the best players in the state.  The psychedelic power-trio Big Black Galactic, the funk bomb droppers Jive Bomb, and Ohio's own homegrown Prankster, Smilin' Joe, are just some of the musical caravans that carried the vans fulla people from all corners out to the dancefloor and up to the rafters of surreal euphoria.
At the far end of the main room from the stage, the playful character who rescued this Mission also believes in physical play like us Pranksters and has filled the space with foosball and ping-pong and bumper pool and pool tables … and air hockey!  which this traveling prairie Canuck grew up on and hadn't seen in millennia!  Not to mention a huge fully functioning kitchen that's churning out everything from sizzling fresh stir-fry and pizza to bacon & egg breakfasts the next morning.
We've got the whole playground to ourselves — and anything goes.  Trapeze artists are flippin around mid-air in the old theater wing, fluorescent hula-hoops are spinning easy hallucinations, homemade bars are being set up next to tents in the indoor camping sections, castaway couches surrounding the dance floor are filling with necking couples, easels are set up that people are painting on, gems and jewelry are being sold by craftspeople on tables, non-stop music's makin' the masses move, and crazy Pranksters are tootling the multitudes as everyone becomes instant family.
Patty Cake and Stage Left, who've also driven down from The Great White, are bouncing balloons they've rigged up with glow-sticks inside, and have a bunch of clothespins with funny or prophetic expressions written on them that they're surreptitiously clipping onto people's clothing when they're not looking.  Grandma Tigger and Mountain Mama are dancing around with bags full of glitter and iridescent rainbow tinsel and streamers and such and are sprinkling it on people making everyone sparkle in the flashing psychedelic lights.  The Wizard of Wonder dons a different costume every 90 minutes, adopting different characters and keeping the masses guessing all night.  Brother Pooh Bear is in charge of liquor and brought a case of crazy indy brews and ciders and wines and is manning the bar and instigating toasts every chance he gets.  And Tater Bug brought a couple of her teenage musician sons who weave their way into some jams but stay off the toast.
.
Before the festivities roar into gear, Gets Things Done talks to promoter / bandleader / Bill Graham-of-the-night John Welton, whose CD release event this whole shindig is, and he's got it all mapped out, including how his band's going on at 11 which'll lead into the balloon drop at midnight, and he conveys the whole blueprint to us M.C.ing Pranksters, and all the world's a go.
'Cept it was the craziest show-producing thing I ever seen — and I've been doin this since I was 16 and have worked with said Bill Graham and stage managed and produced shows all over the world.  The way staging of multi-act shows works is — there are always delays caused by personnel and/or equipment, and the stage manager / promoter are in a constant battle with the band on stage to get them off when they're suppose to.  And on this night, even though we'd started nearly on time, as the first band Big Black Galactic funked on including really interesting interpretations of Pink Floyd's Money and The Beatles' Tomorrow Never Knows —> Within You, Without You in an otherwise all-original set, as they're getting to the end of their allotted slot, they say something from the stage to that effect, and Big Bossman John is meanwhile happily engaged in a pingpong game at the back of the house, and calls out for them to go ahead and play a few more.  Never seen that happen before.  Throwing off your own show's schedule, especially when you've got a hard deadline of midnight everything is built around.  But that's just the kind of 21st century acid test we're living.
So, this is all happening … then this Steve-Goodman-meets-Bob-Marley songwriter Smilin' Joe comes on, and he's playing these funny perfectly Prankster topical tunes like Help Me Find My Way Back To My Tent and I Believe In Circles If They're Round about not believing in false prophets but only in things you know to be true.
Then the funk-jam powerhouse Jive Bomb fly in . . . and they need to be off by 11 in order to get John's own headlining band on for the midnight magic — but as they're reaching the end of their set, again, they say something to this effect, and again John calls out from the back of the room, this time from the pool table where I hear him proclaim he's now won 38 games in a row on this table!  to keep on playing … and he says out loud, though it seemed mostly to himself, "Maybe just keep rollin till midnight," as he cracks another ball into the corner pocket.
Here's the guy who's put together this whole massive event to promote the release of his CD, which should obviously have his band on stage for the key pre and post midnight slots, but he's just la-de-da … lettin it roll out however the vibe feels.  Never seen a looser approach to show production in my life.  Bill Graham would be hemorrhaging about now.
Eventually there's a bonafide balloon drop from the cathedral ceiling, corks'a poppin, noisemakers screeching, glitter flying, genies unleashed, wishes granted . . . and finally the headliner takes the stage — a New Orleans quality quintet complete with Dr. John voodoo vocals and squawkin' dirty trombone with comical lyrics to balance their serious groove.
There's the bass player formerly of Ekoostik Hookah in his satin wine-colored Jimi Hendrix smoking jacket delivering a passionate knee-dropping Isis, while the psychedelic Solar Fire Light Show flashes dancing colors all over the room, and the reggae-meets-funk-meets-jazz starts melting faces and limbering limbs as the dancefloor begins to bubble like gumbo on the grill.
And all set long the original lyrics are baptizing the room in a harmonic hymn of music as medicine — "Heal your heart with musical medicine" — "I'm closer to God whenever I hear it" — "If you're sinkin' down deeper than you've ever been, and feelin' like you're never gonna smile again, let the music be your friend" — "I wear my music on me everywhere I go" — "Move your body with righteous vibrations" — "You've got to free yourself if you want to be yourself" — "I'm gonna make a difference in the world with my songs somehow" — "It's not the singer, it's the song; with the best of intentions, how could it go wrong?"
.
And this musical Elixir rolls on for a couple ever-expanding sets through the first several hours of 2015 until by 3 or 4 o'clock the final peak's been climbed, the final silver mined, the church bells chimed, and the guitars lined, as the final spunions spun, and the post-show groove-down's begun.
And in the looseness of the gooseness, visionary John scheduled Sister Charmaine to step into the air on her keys and fill the mellow with her Tori Amos-like etherial voicings — a sort of choir in the church, a female voice all alone after an all-male high-energy funk-jazz powerhouse of a night — a contrast, a soprano, a Carole-King-meets-Fiona-Apple singer-songwriter at the piano to refreshingly cleanse the palette.
And as she's winding down her solo choir, so is the audience, as people are gradually retiring to various indoor camping sites, while Gilligan's homecookin restaurant in the back corner is quietly serving up late-night recovery dishes, and all the musicians are starting to really play together after they no longer have to play.
And up on stage after Charmaine's gone, I notice some kids setting up — I guess in some exit filler slot — prolly sons of one of the many middle-aged masters we've already been groovin to.  With the room largely emptied out, and us having been raging since … well, day before yesterday … it was time for Gets Things Done to Get Some Lie-down on the giant air mattress the Wizard of Wonder set up in the Pranksters' 10-person tent.  And … good ol' Wiz — none of this would've happened without his twisting my arm from afar and settin up not only the tent but this whole Prankster summit — the Next Generation Kesey katalyst ringing the bell that our kat ears are trained for herding.
Lying down on the heavenly air in the theater's acid echoes, my body thanks me for the horizontal while my mind dances in the sky of kaleidoscopic rainbows spinning to the music from the other room.
And this is when things get weird.
As I'm going on this wondrous visual and auditory ride floating on air … I'm thinking … there's no way this music's coming from those kids on stage … they must have put on a tape … drift off in the swirling spectrum … dreaming in the immensity of it … distant music scorching a soundtrack and conducting a light show … and wait … Zappa's Muffin Man?!  … naw … must be a weird live recording … drift away … ou … nice colors … morphing fractals … drift back … is that … Peace Frog by The Doors?! … what is happening out there … must be a mix tape … ride the lovely lightning waves … but then … Crash! into the shore of … massive cheering … ???  … the room was empty … the night was over … there's no one there … the headliner's done … who the hell is screaming in joy?  … and who the hell is playing?!
After a couple more of these I-can't-believe-what-I'm-hearings — that's definitely Willie Dixon's Spoonful ! — I realize this thing must not be over!  and roll myself off the air mattress onto solid ground where from I can rise again in the sleeping silence of this echoing church and weave back into the performance space — into one of those moments that so rarely happens …
All the other band members who were still here and a few still-standing Pranksters are gathered like for an all-star final bow — except weir not on the stage but at the foot of it applauding this … kid … who was obviously channeling something from way beyond.
I quickly learn it's some quartet called Jojo Stella — with a 24-year-old old-timer driving the kit in a ball of sweat, a 20-year-old calmly thrumming Leshian lines on the 5-string bass, a 21-year-old goateed jazz beatnik on the keys who luckily loves the sound of the Hammond B3, and out front this hair-in-his-eyes 22-year-old singing like a young Keith Richards with gusto, or if Tom Waits was dosed and really going for it.  He's got this bluesy, personality-rich timbre and story-telling style that's emotive like Tina Turner, but growly and old and edgy like Howlin' Wolf.  And then there's … his guitar playing! … uncategorizable for sure … a Hendrix unconventional openness to playing every part of the instrument … with a thrashing Neil Young passion but with precise Jeff Beck or John Scofield jazz lines … but somehow tinged with heavy metal riffs … and all run through a filter of old-timey Robert Johnson blues.
And just as I had emerged from my psychedelic hibernation, people are steadily drifting up from downstairs, rising from sleeping couches, stirring from their nests, and the once empty New Year's Eve-littered dance floor is filling again at what's it gotta be? 5AM?
The eyes I was looking into before my air mattress ride were retiring eyes, satiated eyes, drifting off eyes … and now in front of the stage it was balloons popping as Frank would say — every face lit up, every jaw a little dropped, every eye beaming electrified brightness at What the Wow?! — including in the hair-covered eyes of our wailing bandleader who knows well he's left this Earth and is flying with family in some uncharted galaxy without a net.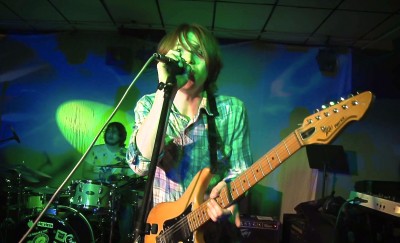 "Are you seeing this, too?" every face is gasping.
And Brother John who put the whole thing together for his band's big CD release party is not only not bemoaning these kids miraculously stealing the show and having things run until 6 in the morning … but he's on stage cheering them on!  Their hour set had grown to two, and he's giving these little raps between songs, telling them to keep going and how they're the new generation that's gonna carry the torch for us geezers … just as we had advanced the story from those who came before.
And although I was hearing Paul Simon singing, "It's late in the evening and he blew that room away," instead they broke into a Young Man Blues / Love Supreme medley!  And they're not just playing them, they're changing them, readapting with new lyrics and altered melodies into this hybrid of psychedelic jazz rock … by these … kids.
And they're improvising like crazy … and feeding off each other and following different paths as the guitar pairs into a duet with just the bass, or just the drums, or just the keys … and this is all prestissimo — and suddenly we're in a downstairs jazz club in Manhattan for the after-hours set when the front doors are locked and it's just fellow magician musicians collectively powering the room and creating the elevation where any leap is possible — dancing on tightropes crisscrossing the stage — no separation between band and audience as fellow players are yelling "Go! Go! Go!" and "Yes! Yes! Yes!" just like Kerouac captured Cassady doing at the birth of Bop.
And suddenly I realize Mountain Mama is standing next to me, and we look at each other with speechless amazement.  Eventually I hear her lean in and say, "This is the kind of performance people are going to be talking about 20 years from now.  You know?  Like — Were you there?!"
.
= = = = = = = = = = = = = = = = = = = = = = = = = = = = = =
.
Stage photos courtesy of Dancin' Chuck Mayfield.
.
For more Adventures with The Merry Pranksters check out The Pranksters at Woodstock.
Or the Pranksters In Wonderland family reunion and Hitchhiker's book release party.
Or here's sumpthin from my book coming in 2015 about all this Prankster – Dead – Kerouac stuff.
Or here's where you can get that book — "The Hitchhiker's Guide to Jack Kerouac"
Or here's a bunch of reactions to it.  Or here's a bunch more.
Or here's a review of the 2016 documentary "Going Furthur" featuring many of these same characters.
Or here's a story on the 2016 Prankster Family Reunion.
Or for another Grateful Dead themed story here's the time they played my 30th birthday party.
Or here's a recent Adventure with Dr. John who was evoked a few times during the epic long night.
Or here's the Adventure The Grateful Dead, The Band, Janis and a trainful of others took across Canada.
Or here's where The Dead sans Jerry came back to the Garden in 2010 and blew the roof off.
.
=========================================
by Brian Hassett      karmacoupon@gmail.com        BrianHassett.com