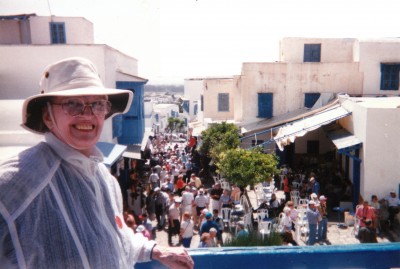 A full day and night party . . .
featuring Enid movies, music, paintings, photographs, artifacts, internet performances, books with stories, and people with stories.
It'll actually be sorta fun.
We'll have oliver favorite food n drinks.
This is just an invitation, not an obligation.
But it'll certainly be a memorable Memorial.
Date:  on The Enid Equinox, Friday, Sept. 23rd, 2011
Time:  Toodle'nine. (2 till 9)
And if it's still cookin we'll go back to the townhouse.
Or you're always welcome to come out for one-on-one visits at a later time.
Location:  in the gorgeous Grand Gathering Grounds in the front of Burloak — two-story high ceilings, floor-to-ceiling windows, huge fireplace, piano, video screens, great sound system, giant patio, exotic fish and other weird stuff …
Burloak Long Term Care — 5959 New St., Burlington
================================================
Mom's Memorial — Friday, Sept 23rd, 2011
It went great.  It was like an extensive museum exhibit, except the stuff wasn't under glass and you could pick it up and look at it.  And it was like a library the way people had their heads buried in historical books and photo collections — and were finding things that I didn't even know about!  And it was like a great party with a lot of laughter, electric energy, and new friendships being made.
There were no formal speeches — it just never felt right.  Everyone was so into the show and the moment — That was the Memorial.  They didn't need anyone telling them what to feel — they were already memorializing in every direction on their own.
It was Enid through a kaleidoscope anywhere you looked — about 20 of her paintings, paintings of her, framed photos covering nearly 90 years, her report card from nursing school, her paint tubes and brushes, her brass rubbings, her father's diaries from the 1910s, her childhood photo albums from the '20s, her scrapbooks from the '30s, her nursing memorabilia from the '40s, her fashion photos from the '50s, her Rocky Mountain paintings from the '60s, her real estate clippings from the '70s, her miniature paintings from the '80s, her video adventures from the '90s, her published stories from the 2000s, her notebooks from writing classes, her trip diaries, her writings to take with you in photocopy, a huge spread of all her favorite chocolates and cakes, Edward Sellers playing acoustic guitar in the background, home movies of her hiking under the Redwoods in the Cascades … her whole life on display in a giant cathedral-like space filled with all these different people who knew her, over all these different decades, in all these different ways, sharing memories with each other.
For 7 hours.
It was so nice.
And she was there smiling, laughing, and telling stories all night long.
Rock on, Mom!
Enid E. Hassett — 1920–2011  R.I.P.
================================================
.
Obits ran in the Oakville Beaver for the Sept 16/17/18 weekend edition, in the Winnipeg Free Press on Saturday, Sept 17th, and the Brandon Sun, Saturday, Sept. 24th.
Enid Ester Hassett, formerly Olver, and originally Bennett.
Born in Brandon, Manitoba, on Earth Day, before there was one — April 22nd, 1920.  She skipped away while dreaming on September 13th at the age of 91.
Enid was an environmentalist before there was a movement.  She was a feminist before there was a word for it.  She was a painter, a writer, a nurse, and someone who found people homes to raise their children.
She always championed what was right, and was never addled by artificial restraints. Her philosophy came down to — "Do whatever you think is right, but DO it."  And — "Don't stop at the first roadblock — there's a way around everything."
She was a nurse anesthetist at the Mayo Clinic in Rochester, and Supervisor of the first Intensive Care Unit at a hospital in Manitoba.  She was the top woman real estate agent in Winnipeg in the 1970s, and she made sure she saw the world, traveling far and wide long before it was common.  She married a happy, happening Air Force pilot, Frank Olver, who was tragically killed in 1951.  They had one daughter, Susan.
In 1956 she married a cute, easy-going banker, Vern Hassett, and had one son, Brian, in 1961.
An Epic Enid Memorial will be held on the Equinox, Friday, September 23rd, from 2PM till 9PM, at Burloak Long Term Care, 5959 New St. (at Burloak Dr.) in Burlington.
Enid is survived by her son Brian Hassett;  her sister Marjorie MacAuley in Brandon;  3 grandchildren, Christopher and Michael LeSavauge, and Elizabeth Sutherland;  and 3 great-grandchildren, Grace and Christopher LeSauvage, and Magdalene Tsushima.
============================================
.
Here's another tribute to her —  A Song of Enid I Sing.
Or here's some of the other many tributes that came in to this Force of Nature.
Or here's one of our many adventures together — The Maltese Fall.
And here's — the tribute to her husband and my Dad — Vern Victor Hassett.
= = = = = = = = = = = = = = = = = = = = = = = = = = = =
Brian Hassett          karmacoupon@gmail.com          BrianHassett.com