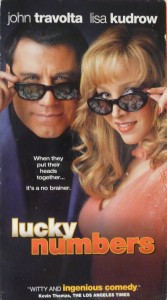 film review:  Lucky Numbers (2000)
Directed by Nora Ephron; starring John Travolta, Lisa Kudrow, Tim Roth, Ed O'Neil, Richard Schiff, Bill Pullman, Michael Rapaport, Michael Moore.
First of all – this is made by Nora Ephron!  Heartburn!  Sleepless!  Her and Penny Marshall have to be the two best female filmmakers going – at least of the older gen. You know you don't get an amazing cast like this together unless you've got someone like Ephron at the helm.
For sure this is no Best Picture – but it is some low-budget dark comedy magic.
Flipping channels one night I happened to luck into the scene where Richard Schiff's Jerry confronts Tim Roth's Gig in the strip-club kitchen over the rigging of the lottery.  For me, it's as Dylan sings of Gregory Peck, "I'd watch him in anything."  Either of these two stop me in my tracks.  Ya gotta think this scene was at least partly improvised – and wow, what a gem!
So I watched the rest of it.  Then tracked it down, and have now seen it about 10 times.  Almost every scene is funny, tight and great. There's not a lull through the first half-hour, and all the way through the hour-15 mark it's pretty note-perfect. Truthfully, the final reel is a little uneven, but who needs comedies to get nicely wrapped up with a bow?
And WHAT a cast!  Tim frickin' Roth, Travolta, Rapaport, Pullman, and Richard Schiff!!  Masters all.  And Travolta's hilariously hopeless weatherman is perfectly pathetic.  After Pulp Fiction turned things around, it was this and Primary Colors that won me over to him.
And Bill Pullman's lazy cop is priceless!  He doesn't even enter the movie until an hour in, but I laugh every time I just think of him.  "The lower back . . .  it's an enigma."  "Where . . . do you find girls like that?"  "You know what would be unfortunate — if we got into that whole 'let's-follow-him' rigmarole."  "Great.  Now I've got another 20,000 forms to fill out."
And then the insane Lisa "There is a limit to my classiness" Kudrow.  And even Michael Moore is actually believable.  And then Al Bundy with a station manager's job!  And Michael Rapaport is perfect as dumb Dale The Thug — especially the scene when he first meets Travolta at his house.
And there's choice cameo bit-parts including by the great Canadian improv actor Colin Mochrie playing the manager of the Denny's, who's most recognized for all the "Whose Line Is It Anyway?" shows he did.  And the goofy blond stand-up comic and over-the-top actress, Maria Bamford, plays the lucky loopy waitress.
And what a great soundtrack! The Cars' "Moving In Stereo"!  Dr. John's "Right Place, Wrong Time"!  "Hey, Big Spender"!  Rickie Lee Jones!  "Mack, The Knife,"  Blondie!  "Freeze-Frame by J Geils!  "Love Is A Drug", and "We Are The Champions" when the truck's pulling out in the snowstorm.
For the most part, the writing is just fantastic.  Almost every frickin' scene.  I assume Ephron helped, and maybe her hired-gun pal Carrie Fischer.  It's too good for one guy.  Adam Resnick, the main writer, was from "The Larry Sanders Show" and Letterman.  The characters are just fantastic (ly flawed and horrible!)
If you like this kind of thing, make it a point to find "Beat The Devil" (1953), the same kind of comedy noir, except via a well-buzzed John Huston, with Humphrey Bogart, Peter Lorie and a ton of other true characters.
Lucky Numbers is based on the true story of a Pittsburgh weatherman rigging the PA state lottery in 1980.  You can learn more about it here:  http://www.answers.com/nick+perry?cat=entertainment
= = = = = = = = = = = = = = = = = = = = = = = = = = = = = = = =
Here's a review of another funny-cool twisted movie — My Dinner With Jimi.
Or here's from the London premiere of On The Road in the courtyard of Somerset House.
And here was the world premiere of the new shorter version of On The Road at the Toronto Film Festival.
Or here's an overview of all the Beat movie dramatizations ever filmed.
Or here's a review of the lost footage of the historic roc n roll train trip that was finally released as Festival Express, starring the Grateful Dead, The Band and Janis Joplin.
Or here's the Scorsese's Rolling Stones concert film — Shine A Light.
Or here's the brilliant surreal masterpiece interpreting Bob Dylan — I'm Not There.
Or here's a bunch of films I reviewed on IMDB.
Or here's a master list of Brian's Hot 200 movies including all sorts of cinematic riffs and tips. 
= = = = = = = = = = = = = = = = = = = = = = = = = = = = = = = =
by Brian Hassett            karmacoupon@gmail.com                    brianhassett.com