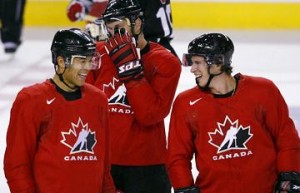 Rosters updated as of:  Friday, February 26th 
Here are the easily printable one-sheet roster line-ups for the different teams, with all players in their positions, on lines, with their Olympic jersey numbers, ages, current teams, etc. . . .
The docs are in Word, and for printing just make sure it's set to "landscape" — it should come out on one sideways page.
And just print "Current page,"  and not "All" unless you want a blank extra.
CANADA —   Team-Canada-2010
RUSSIA —      Team-Russia-2010
SWEDEN — Team-Sweden-2010
USA  —    Team-USA-2010
FINLAND  —  Team-Finland-2010
CZECHS  —   Team-Czechs-2010
SLOVAKIA  —    Team-Slovakia-2010
Updated as new information emerges.
For a complete primer on Everything You Need To Know about Hockey in These Olympics — go here.
For a great story about the torch run through Canada — go here.
===============================================
by Brian Hassett at
BrianHassett.com
karmacoupon@gmail.com