Stay Stopped Smoking
.
For all my friends who struggle . . .
These are the handwritten notes I'd read any time I was feeling an urge: 
Whatever's bothering you will NOT be made better by drawing smoke into your tender  living lungs.
Drawing smoke into your lungs doesn't make anything better.
Don't die for something you don't even want to do.
I LOVE gaining the money I save each day.  Don't blow that.
I don't want my house and car and clothes stinking of cigarette smoke like some completely lacking in discipline loser.
I don't want to be a slave to something I don't want to do.
Do not voluntarily draw the smoke from burning leafs and chemicals into your tender lungs and body.
You are not a smoker.
Don't put your mouth on the end of an exhaust pipe.
Picture Alex Grey's paintings of our blessed tender life-giving organs. Do NOT voluntarily destroy those beautiful organs with vicious chemical smoke.
I don't want to wake up wheezing and hacking horkers into a sink.
Smoking is literally killing me.
I want more time in my days.  And I get so much more somehow when I'm not smoking.
I want to go visit people as a non-smoker.
I don't want to be a weak-willed LOSER.
Save $30 a day (including on beer) to spend on needed items.
Give yourself something to be proud of.
Everyone else finds them disgusting.  Don't be a loser doing something disgusting that you hate.
I could have bought a new furnace for free with what I spent on something that's killing me.
I want to see how more of this movie (life) turns out — all the stories playing out in the world.  Live to see what happens, man.
Don't jones to go out at night cuz you ran out of cigarettes.
Don't give The Addition Rat inside you water and sustenance.
You think you want a cigarette, but you really don't.
Shortness of breath . . . trouble breathing . . . chest pains . . . heart palpitations.
You'd rather not smoke than smoke; you'd rather be a non-smoker than a smoker.
You won't feel better buying a pack of cigarettes — you'll feel worse.
Smoking does NOT make me feel BETTER.
NOT smoking DOES make me feel better.
I definitely get more work done per day when NOT smoking.
I'd rather get one new book or DVD of my choice every single day than buy packs of dead leafs to burn and draw into my body.
I like myself more — and how I fill my days — when I'm not smoking.
Don't blow your quit streak for one moment of misguided desire.
I like myself better when I'm not smoking.
I like the way my brain works better when I'm not smoking.
Having a cigarette does not solve ANYthing.
Those things are disgusting.  No wonder that's what so many nonsmokers say.  Phucking repulsive.
I don't want to be a smoker.
========================================
Another trick:
Write a list of both friends and famous people you admire who don't smoke.  😉
And write a list of people you know who died of lung cancer.
You can add George Harrison, Johnny Carson, Yul Brynner, Lucille Ball, Walt Disney, Nat King Cole, Joe DiMaggio, Michael Landon, Sammy Davis, Jr., Dean Martin, Betty Grable, Babe Ruth, Suzanne Pleshette, Peter Jennings, Humphrey Bogart, Gary Cooper, David Bowie . . .
Here's a full list of 227 famous people:
http://tobacco.cleartheair.org.hk/wp-content/uploads/2016/01/Tobacco-kills-2-out-of-every-three-users.pdf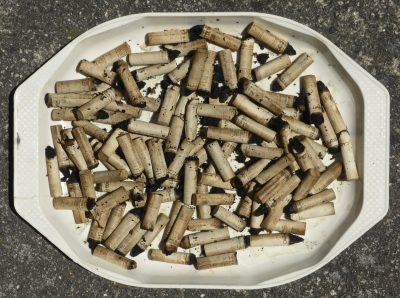 =========================================
,
And speaking of lists — here's the most complete list on the internet of Famous People Who Never Had Kids.
Or here's a cool one of Famous Americans Who Were Not Born in America.
Or here's another power of the mindset piece — The Spilled Coffee Test.
Or here's a nice general inspiration piece — Be The Invincible Spirit You Are.
=========================================
by Brian Hassett
karmacoupon@gmail.com   —  BrianHassett.com
Or here's my Facebook account if you wanna join in there —