What I Didn't Know Then
by Brian Hassett
.
"Democracy isn't something you have,
It's something you do,"
94-year-old Granny D shared for eternity.
Love isn't something you receive,
It's something you give.
A smile isn't something you see,
It's something you shine.
Truth isn't something you know,
It's something you share.
A hand isn't something you hold,
It's something you offer.
Wealth isn't something you hoard,
It's something you GIFT.
A word isn't something you utter,
It's something you keep.
We're only here for a sliver of time,
Though when you're young it seems like forever.
You've got one reputation,
And one occupation —
To do the right thing
For all whom you know
And all whom you don't;
To do the kind thing
For the stranger among us
As the partner beside us;
To be the heart in the darkness,
The spark with the kindness,
With the will of a warrior
And the love of a mother.

Support your sister, support your brother,
Support your elder, support your younger;
The more harmony we sing,
The farther our voices carry.
Compliments are free to give,
But worth a million to receive;
So share your love with those you know,
And those you know to believe.
Your happiness is no one's job
But your own;
Every day, and every night,
Do the work that makes you right.
Follow your soul and follow your heart,
Only you know – what sets you apart;
But know you do, when you quiet your mind,
Uncover the truth only you can find.
The sooner you practice forgiveness,
The longer you'll live in the light;
The faster you run from malicious,
The stronger your beam will shine bright.
Don't count on your next life — enjoy the buffet,
Don't put off till tomorrow what's sizzling today;
Give it your all and give it your best,
Cuz this go-round is the real Acid Test.
.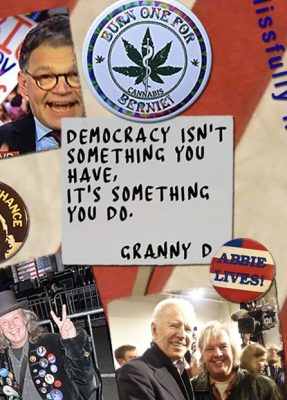 Here's the piece set to some catchy upBeat world-beat funky-cool music by Gabriel Walker —
https://fromtheancestors.com/brian-hassett/
=============================================
.This new poem will soon be in the international collection —
From the Ancestors: Poems and Prayers for Future Generations
a double album and book project — including 33 poets, musicians, singers, healers/curanderas/shamans from 20 countries, in 19 languages.
Release date is November 10, 2020.
Besides myself, folks included are —
Ron Whitehead, Kentucky/USA
Birgitta Jonsdottir, Reykjavik Iceland
Joy Harjo, Muscogee (Creek)/USA
Dr. Hilaria Cruz, Oaxaca Mexico/USA
Doris Kareva, Tallinn Estonia
Iris Lican, Sintra Portugal
Michael White, Tennessee/USA
Jaouad El Garouge, Morocca
Thomas Bellier, Paris France
Chryssa Velissarous, Greece
Al Paldrok, Parnu Estonia
Wilfred Hildonen, Norway/Finland
Lee Pennington, Kentucky/USA
Greta Render Whitehead, Kentucky/USA
Bengt O Bjorklund, Sweden
Jeanette Aslaksen, Sami/Norway
Jaouad El Garouge, Morocco
Thomas Attar Bellier, France
Producers Ron Whitehead, Gabriel Walker, Matt Thomasson, Bill Hardesty, Yunier Ramirez. Executive Producers sonaBLAST! Records, Michael White, and Ron Whitehead. a sonaBLAST! Records and released for the global literary renaissance.
Recorded, mixed, and mastered by Gabriel Walker, Bill Hardesty, Matt Thomasson at Logan Street Recording Studios.  Music Composed and Produced by Gabriel Walker.
Music co-Produced by Matt Thomasson and Bill Hardesty.
Mastered by Kevin Nordstrom.
Book produced and edited by Ron Whitehead.
Cover art by Wilfred Hildonen.
Profits from this project will go to Kentucky Refugee Ministries/KRM, a non-profit organization in Louisville, Kentucky dedicated to providing resettlement services to refugees and promoting self-sufficiency and successful integration.
=====================================