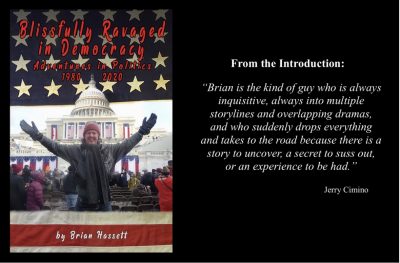 .
Here's the first live show for the book — a Facebook live stream for an online Prankster reunion — featuring The Franken Fracas, Obama's election night, Abbie Hoffman, the climactic Bernie rally in New Hampshire & lots of other gems . . .
---
.
David Amram — Jack Kerouac's principal musical collaborator
"Thanks for your Hip Herodotus History of Happenings!
"You really nailed the whole era, in addition to a crash course in Pranksterland and your account of the afternoon tribute to Abbie. 
"You showed a new generation your take on the relationship of the THEN and the NOW on the TV show we did together, and I know you'll continue to do this in your OWN way, and that's the whole idea!!"
---
>.
David Wills, Beatdom — "This book is fantastic!"
---

The Beat Museum —
There are very few people on the planet who know as much about the Beat Generation, their lives and their impact, as does my friend Brian Hassett. In a way, you could say Brian wrote the book on the Beat Generation. Multiple books, in fact. And at a level of storytelling and personal detail matched by very few. This is why when Brian told me he would be having a new book coming out and asked me to write the introduction, I quickly and happily said, "Yes!"
And that new book — Blissfully Ravaged in Democracy: Adventures in Politics 1980-2020 — is out this week. It's a departure from his usual musings about the counterculture, and is just as important. It is an immersive look at the last 40 years of politics in our country from Brian's own unique perspective. Rather than telling tales of what we've all been seeing through our TV screens, Brian once again, took a hands-on approach by showing up. He showed up in 1980 and in 2000 and again in 2020, and every election in between. Over and over again Brian has been on the scene and met the people who guide our day-to-day lives as we weather the politics of our age.
Blissfully Ravaged in Democracy is a personal tale filled with personal anecdotes of both the mighty and the fallen as only Brian can tell them — from the grandest hopes and aspirations of the highest profile people in the world to the crushing defeats and the rebuilding that follows.
---

Simon Warner — author of Text, Drugs and Rock n Roll and Kerouac On Record —
Brian Hassett, Beat commentator and raconteur extraordinaire, switches tack with his new book, leaving the cool chaos of the counterculture for the wild waterfront of politics USA.  Like a latter-day Hunter S. Thompson, he straps on his laptop and heads out to the Wild West of Western democracy with sharp words his only defense.  There is even an introduction from Beat Museum boss Jerry Cimino!  What's not to love?
---

David Schellenberg, Chair, Democrats Abroad — 
"Very nice book and stories. Going to New Hampshire and actually meeting all the candidates and getting a picture with every single one of them is a total game-changer."

---

Mike Flynn, WUML — 
"You have been on the political scene for years, and have finally documented it, filling in that piece of the giant output of your literature documenting Adventure Tales from your life."
"This book brings an insider perspective to what politics looks like on the ground, the human interaction, and what's really happening — when so much of this stuff gets erased by history. What is the reality of people involved in politics and how has it changed over the years? That's one of the interesting things that you get down in this book. It's continuing the theme of what you do."
"You're the Gonzo journalist type who's attracted to very interesting, colorful personalities, and you join them on their travels, and are able to communicate it in a way that the reader feels like they're with you on these Adventures. It's a really fantastic thing that you're doing with your literary voice."
---

The Democrats Abroad podcast — stories about the New Hampshire primary, with hosts David Schellenberg and Rachel Eugster (March 7th, 2020).
---

The Subjective Perspective interview (starting 22 minutes into the podcast) about Winnipeg, the Grateful Dead, Kerouac, Kesey, memory, Democratic unity, participating in democracy is fun, the Cassady family (April 29th, 2020).
---
.
Watch for upcoming shows . . . or you can order a copy here.
Or you can read The Beat Museum founder Jerry Cimino's killer Introduction here.
.
=======================================
by Brian Hassett
karmacoupon@gmail.com   —  BrianHassett.com
Or here's my Facebook account if you wanna join in there —
https://www.facebook.com/Brian.Hassett.Canada