A Festival of Festivals
.
I said somewhere on social media leading up to the Woodstock 50th that it should and would be experienced by people in different ways all over the world. "Friends not corporations create Woodstock." There was no required location or situation. As Jerry Garcia said of the Beats — "… it was a way of seeing."
And in the Yasgur's farm area of Upstate New York, there were a lot of different eyeballs tuned in to a lot of different scenes.
I'm disappointed there wasn't a giant unifying singular one-time-ever festival (like on the 25th in '94 that was so great it I wrote a whole book about it!) — something that drew the so-inclined from 18 to 80 like the best of the gatherings I attend attract — but what this was was a festival of festivals. Just as the modern-day fests offer multiple stages with eclectic choices all day & night, plus art installations, a million food choices, camping, and friends reuniting and all that jazz — so too did the 50th Woodstock cumulatively create a collection of different stages & events all along the deservedly legendary Route 17B in Sullivan County.
There was Santana playing his evolved world-beat large-ensemble super-pro act at the high-end amphitheater stage at Bethel Woods with tickets scalping for $400 . . . and there was Melanie playing solo for free from the big front porch of the very cool Catskill Distillery. There was Melvin Seals closing opening night at the Yasgur's Road farmhouse, and Grace Potter opening closing night at Bethel Woods. There was the Puerto Rico soulman showman Fantuzzi leading his eclectic collective through a Little-Richard-meets-the-Mothers-of-Invention show with a relativistic crowd dancing in revery in front of the family stage at Arrowhead Ranch, and there's Arlo Guthrie on the big stage at Bethel Woods with the whole front of it cordoned off for paying VIPs.
There's the touristy t-shirt stores all along the roadway with actual non-ironic "Welcome Hippies!" signs — the opposite of the locals' "No Hippies Here!" reaction the first time.
And there's the master tie-dye artist Yano displaying a gorgeous 50-foot tapestry for the 50th that took 400 hours to make . . . that he did just to make people happy, not to make money.
The artists are hidden in their work.
There's the full 180 degree spectrum of profiteers and performers; of straight-streets in seersucker and street-people in sleeping bags; of old people with canes and young people with . . . wait a minute. That was the problem — that Miley Cyrus, The Killers et al would have solved at Watkins Glen, like Cypress Hill, Green Day & such did in Saugerties at the 25th in '94. There were no young people here. Or very damn few — but there were more at the remote satellite events. In fact — the Furthur away a site was from the original location, the more young people were there. Arrowhead Ranch in Liberty (where the Holiday Inn was that all the performers stayed at and were helicopter shuttled to the concert field in '69) was where a buncha the under-30s went for Rose's well-curated anniversary festival. Also at Hector's Inn — where I never noticed a cover charge all weekend — just $10 to park and you're in to where there were faces without wrinkles dancing around bonfires with musicians.
What it was was diverse scene-wise. You could do the VIP packages in perfect pampered conditions for Ringo Starr, Carlos Santana and John Fogerty for thousands of dollars a night. Or you could find a place in the ample woods to camp and listen to music for free for days and nights on end and meet like-minded people from all over the world.
Bethel Woods came up with this "Travel Pass" idea to scare cars n people away, and maybe it kinda worked — cuz the only thing that caused traffic delays was cars lined up at Hurd Road to check for these stupid Travel Passes!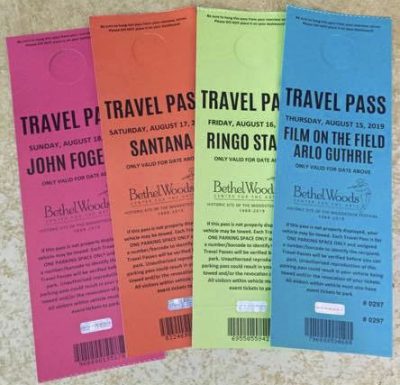 The colors of control.
But on a heavier level, I learned from an insider they were concerned about a mass-shooting situation, and had done extensive training and planning and screening which all ultimately resulted in a Gratefully safe weekend. Somebody or 'bodies who didn't like Western ways or liberal mores would sure have a way to make a point in this pointed place. A friend told me her parents were worried about her coming — but not cuz of sex & drugs like it prolly was in '69. They were worried about her getting shot.
But back on the Woodstock Spirit side, Bethel Woods was letting people in for free for Fogerty for anybody outside the gates on the last night. And they did mount a substantive & entertaining special exhibit for the 50th with all this one-time-ever stuff leant for display, including the sign that someone painted in 1969 telling neighbors not to buy Max's milk that his wife Miriam cites as being the tipping point in him deciding to host the festival.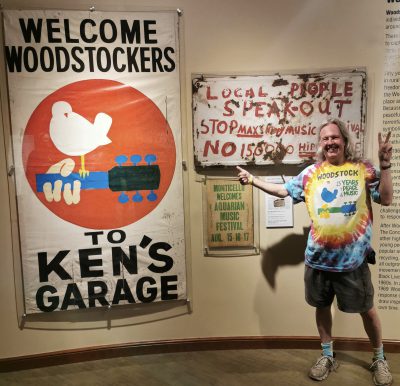 .
Or I love how, when you walk into the first room of the permanent exhibition at the official Woodstock museum there's a picture of none other than Neal Cassady laughing in the immensity of it.
Mind you, they don't mention his name, or the fact that he's sitting in the Furthur bus (that actually came to Woodstock in '69), or that Allen Ginsberg took the picture . . . but at least he's there in Spirit laughing through eternity.
And then there's the part where Albert Hoffman wanted to get a Prankster wristband to Michael Lang, and hadn't been able to meet up with him at Yasgur's farm, so he went to where they have a participatory paper-plate exhibit in the museum, and he writes "Gives this to Michael" then pins the wristband to it and uses his nine foot reach to drop it perfectly into a Michael display in the museum.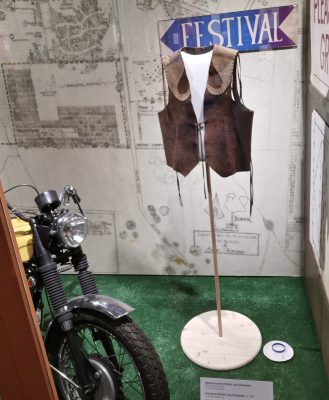 The Pranksters strike again. 🙂
Or then there's Yano and Ashlee stretching out their 50 foot tapestry for the 50th anniversary for the first time at the crown of the lawn of the Woodstock field . . .
like a rainbow framing the assembled — which happened for real the next night . . .
.
Or there was the part where Arlo gave us a class in the History of Songwriting & Storytelling, performing Woody's This Land Is Your Land, and Bob's Gates of Eden, and Steve's (The Train They Call) The City of New Orleans, plus his own Comin' Into Los Angeles, where he told us how the mic was all screwed up on that, his opening song, at Woodstock '69, and how they had to use another live audio version in the movie, and that's why there's so many cutaways, cuz they couldn't synch up his lips and sound.
Or there was Carlos pulling off an extended Exodus by Marley with the Doobie Brothers joining him forming about a 20-piece orchestra; or John Fogerty weaving in a Give Peace A Chance with his sons. And there was Melanie playing with her daughter Jeordie at the Yasgur's farmhouse site; and Arlo singing his dad's songs at the Yasgur's farm concert site. And there was Santana's wife Cindy singing a rocking Imagine from her drum kit; and Fogerty's son Shane solo & electric on the big stage delivering a respectably updated Star-Spangled Banner.
Or there was that wild moment when the rains hit during Santana and I climbed over the split-rail fence at the back and up some rocky outcropping under some trees, and nodded hello to a couple also crouched down in the dark taking shelter from the storm. Then through the splashing rain and concert din, I think I hear the guy say, "Are you an author?" but I sort of ignore it, assuming there's no way he just asked me that. Then out of the darkness I hear louder, "Hey, do you write books about Jack Kerouac and stuff?" "What?!" thinks I, squinting over in the Huckleberry Finn riverbank-perched darkness. "Yeah," I kinda mumble, not sure what's lurking next to me in the midnight rain. "I came to your reading at the Golden Notebook last year." (!) And sure enough it was a book-buying fan in the dark on the rocks in the middle of the rain in the middle of a concert at Woodstock!
Or there was the moment one of the guys from the Doobie Brothers mentioned from the stage that he'd just met Wavy Gravy backstage, setting off a flurry of activity in Pranksterland until it was concluded the guy must have been speaking metaphorically.
Or there was Tedeschi-Trucks' 12-piece band stealing the whole damn musical show for the weekend, including pulling a Dead maneuver by opening with Santana's Soul Sacrifice then weaving back into its ending later in the show. Or them climaxing the whole thing with Sly & The Family Stone's I Want To Take You Higher that riffed and built . . . and built and riffed to a frantic sweating acid dancing peak. I'll probably get in trouble for this, but this Deadhead made a note during the show that these guys were doing what the Dead and the Allmans strived for with the 2 drummers and improvisational soloing — but were doing it better. Yeah, I said it. The arrangements, the playing, the interacting, the drummers driving each other and in turn the band, the horn section, the harmony singers . . . those latter two additions being something those former two groups really coulda used — proving this more-than-capable modern ensemble was fulfilling the promise of their forefathers and truly taking it Furthur.
Or there was the stark contrast between Carlos Santana repeatedly praising the Grateful Dead and Jerry Garcia from the stage to grateful applause from the fifteen thousand assembled —
.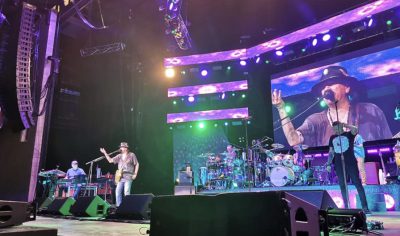 versus the following night John Fogerty delivering a long & painfully tone-deaf rant about how bad the Dead were at Woodstock and mistakenly blaming them for the logistical/technical problems of that Saturday night in the rain 50 years ago. I walked out of there thinking less of John Fogerty than when I walked in — his self-serving sermon doing more damage to his reputation than his two hours of playing benefited it.
Or there was the part where they were going to show the revised director's cut of the original Woodstock masterpiece of an Academy Award-winning documentary on the original field — in fact they billed the night as the "Film On The Field" but moved it in to the concert amphitheater at the last minute — an unfortunate setting, except for the benefit of it playing through the concert PA — so you're hearing every note of every performance on a crystal clear full range 2019 sound system cranked to 11. Or there's the part where Michael Lang's first appearance elicited spontaneous applause from the crowd, and by his second appearance a full-throttled whooping. And then on the Monday following, when somebody mentioned Artie Kornfeld, I realized it was the first time I'd heard his name all weekend.
Or there was that time where I was sitting next to Arrowhead's Rose during the screening and we both got choked up together at the overwhelming beauty of the movie and the audience-art interaction as though all the performances were happening in person right in front of us — and all experienced from our Dead-center free-show cushy-seats in an amphitheater full of the best kind of family.
Or there was the comical karma when the self-anointed Woodstock purists who wanked themselves off shitting on Michael Lang all year had to deal with their original farm host Jeryl warmly inviting him back to the garden and embracing the person without whom none of this weekend would be celebrated.
Our man Wiz on the scene at the homecoming hug between Michael and Jeryl on Yasgur's farm.
Or there was the part where a big rain storm blew in right on Woodstock cue, but in 2019 they have radar weather satellites and saw it coming, and at Bethel Woods they evacuated the entire lawn telling people to return to their cars to ride it out, but a bunch of us just stormed the domed pavilion that had been the media center, and the privileged so-called reporters couldn't handle the great unwashed having the gaul to invade their pampered bubble — and watching them trying to defend their sanitized world with actual people going to an actual concert was worth the price of invasion.
What there wasn't was a unified collective hundred-thousand-person epiphany that can only be conjured in large crowds collectively peaking.
The idea and mindset of "Woodstock" is part of global language and culture. If the logistics and finances and laws and security and payola and permits and propaganda and paranoia and polarization and lots of other poop words made it impossible to do an actual festival in these bad trip times — The Woodstock Spirit was proven very much alive this past weekend.
.
And the thousands of people who came from all over the world and manifested the vibe in such myriad ways proves this part of our collective consciousness is here to stay — coming to life in a collage of reunions collectively created across the canvas of the land. In our ad hoc krewe we had Danes and Irish and Canadians and Germans and Yanks from every region and persuasion all sharing the peace pipe around the bonfire — The United Pranksters of All Nations — brought together over an idea that "a half a million kids could get together for three days of fun and music, and have nothing but fun and music," as Max Yasgur put it the first time 'round.
There's a festival culture in a wear-what-you-want and love-who-you-want world that showed itself early and vibrantly in 1969 on an open field in an open time — and a lot of the best of that idea is still going on in the world we live in today.
God bless those who did it the first time . . . and those who are still doing in our time.
.
===============================================
.
Here's a link to a book I wrote that was just published about the 25th anniversary of Woodstock.

Here's a link to a little excerpt from it about the opening night at Woodstock '94.

Here's a link to an excerpt about how that festival opened.

Or here's a story about going to Yasgur's farm and meeting up with the modern day Pranksters in 2014.

=============================================

============================================
Special thanks to Jeanne Burgess & Rick Melnick for their hideaway estate-on-a-lake and the quiet natural sacred space following the Woodstockian madness to create this reflection.
==========================================
by Brian Hassett — karmacoupon@gmail.com — BrianHassett.com
Or here's my Facebook account if you wanna join in there — https://www.facebook.com/Brian.Hassett.Canada
===================================================