.
While I was stopped behind the stage carefully taking notes on the human traffic flows, I heard the promoter John Scher start talking from the stage. "Holy smoke! It must be 10:00!" I realized. "Sounds like he's opening the show!"
In the press kit they gave us at the Friar Tuck I noticed a sheet on Native Americans they'd scheduled for the Opening Ceremonies, and knowing they'd be the most direct spiritual masters of the weekend, I was in the crowd before Scher could finish his sentence.
The front of the field was surprisingly open, so I sashayed right up to the stage. These amazing gurus in their full peacock feathered regalia were chanting and dancing and blessing up a storm. And there was Michael Lang on the side of the stage in his fringed leather jacket, grinning his cherubic, beatific grin. I kept wondering: If the guy's such a capitalist prick as so many bitchers complain, what's with the full hour of Indian tribes opening his Woodstock II? Even if he "sold out" to Pepsi, he didn't have to invite all these spiritualists and give them their own tepee field for the weekend . . . and then stand on the stage and watch them in crossed-hand reverence. If they would have appeared for five minutes it would have been a perfunctory gesture. But he had them on stage for an hour with their various blessings, speeches and prayers in different languages, eliciting that singular tranquility only felt in the presence of true spiritual masters no matter the faith. It hushed the crowd. For an hour this supposedly heathen generation of moshers paid attention to a tribal overture about listening to your heart and how we're all a part of our future. It may have been the last time they were quiet until about next Tuesday, but they were quiet now.
And a wide variety of blessers it was too, including that pop art pillar Peter Max who said, "We've come here in the name of peace and music. The whole world is watching, as it did 25 years ago. Let us conduct ourselves with peace and love, and let it shine all over the world."
Even after the recent wide-spread yuppie epidemic, with its Beavis and Butthead after-effects, we proved that a half-million nineties kids could still find their way to a designated location and stand on their hind legs in unison. And maybe it was even more than that. But it was these ancient Americans who were putting a voice to it before it even happened.
Chief Jake Swamp was the Grand Poh-Bah of the whole shebang. He introduced a gorgeous singer named Joanne Shenandoah who looked like a goddess in a white flowing gown, while all around her were sage burners, flag wavers and drum players celebrating her arrival. They created with voice and music a transcendental sense of oneness, of all of us being part of a single body. We were hypnotized into a silent unity by a harmony and a beat. And it's pretty much stayed that way through Gabriel on Sunday.
================================
From my new book Holy Cats! Dream-Catching at Woodstock — available here.
.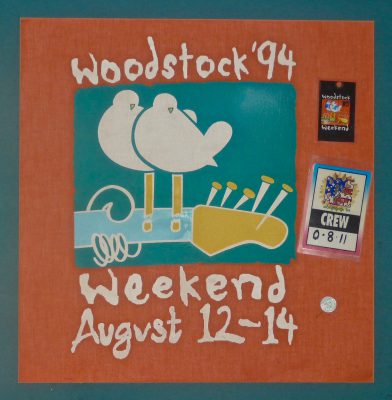 =================================
You can order any of the prior Beat Trilogy books direct from the author and get them colorfully signed, or you can order them here —
The Hitchhiker's Guide to Jack Kerouac
How The Beats Begat The Pranksters, & Other Adventure Tales
On The Road with Cassadys & Furthur Visions
==============================
by Brian Hassett — karmacoupon@gmail.com — BrianHassett.com
Or here's my Facebook account if you wanna join in there — https://www.facebook.com/Brian.Hassett.Canada