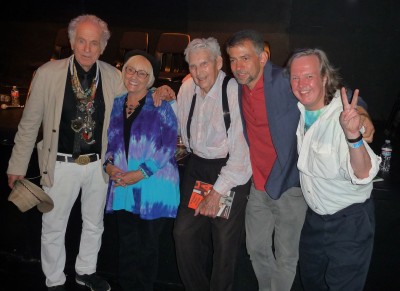 Al Hinkle — Hero of The Humble
.
Gracious Giant,
Gentle Giant.
A Literary Giant's
Character for Eternity —
Still alive in every copy of On The Road in every country In The World,
The lovable affable portable — Big Ed Dunkel,
The Everyman in the car, man.
Not a Cassady — Not a Kerouac,
But a YOU,
And a me.
Everyone who wasn't a hero could be in that car
In the person of Al,
Blocking the wind, running for smokes,
Driving through nights, playing with folks,
And planting the flag!
In the Southern Pacific Railroad Earth
That beckoned the charmers, the dreamers, conductors
Of generations of players in the symphonies of cultures
That filled the halls and spiked the balls and wooed the dolls
With an easy laugh and a generous hand.
Al was a man who had a plan:
To hit the road and not be told
What to do — cuz he already knew
It's up to YOU
To catch your magnificent friends on the flying trapeze.
Al always practiced this, taught this, caught this, shared this.
A hero of the humble.
An explorer of the quiet.
A romantic of the road.
A swashbuckler of the rails!
A watchman with cocktails!
A map-man with muggles!
A Helen-man with snuggles!
A mighty man who juggles
90 years of adventures into one magic trick of LIFE!
We should all be so lucky!
As all those who knew him were.
.
===================================
Here's an improvised video riff to Al full of stories and photos . . .
.
Or here's The Beat Museum's founder Jerry Cimino performing Hero of The Humble at the "non-memorial memorial wake" in San Jose on Sunday January 27th . . .
.
Or here's a similar video tribute to the late great Carolyn Cassady . . .
.
= = = = = = = = = = = = = = = = = = = =
Here's a story about The Beat Museum's big Beat Shindig where Al makes a couple of appearances back in 2015.
Here's my tribute to his and my close friend Carolyn Cassady when she passed.
Here's some riffs on my book that Al loved — The Hitchhiker's Guide to Jack Kerouac.
.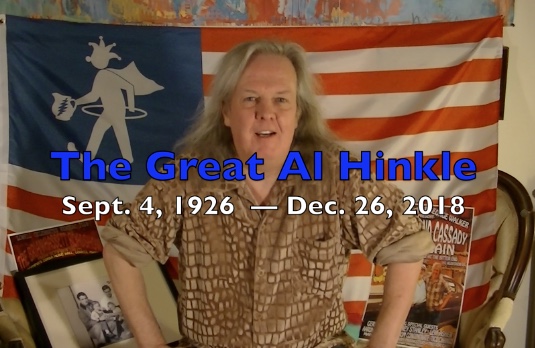 = = = = = = = = = = = = = = = = = = = = = =
by Brian Hassett — karmacoupon@gmail.com — BrianHassett.com
Or here's my Facebook account if you wanna join in there — https://www.facebook.com/Brian.Hassett.Canada