"The Last Man Standing" is no longer standing
.
Update — A memorial tribute will be held to Al at the Cafe Stritch (374 S. 1st St.) in San Jose, CA — on Sunday, January 27th, starting at 5PM. All are welcome.
.
Here's a riff with visuals . . .
.
.
The last real-life primary character in Jack Kerouac's On The Road has sadly gone to join his wife and best friends on that Big Adventure in The Sky.
Al Hinkle, aka Big Ed Dunkel in On The Road, Slim Buckle in Visions of Cody and Desolation Angels, and Ed Schindel in John Clellon Holmes' Go, finally toppled after proving for nearly a century that nobody could knock over this giant.
When I asked him how tall he was, he told me he was "6 foot 5-&-a-half." I thought it was so funny & telling that he didn't round it up to 6'6″ and take credit for an extra half inch he didn't own, but also wanted to make sure he got credit for that half inch above 5. 🙂
He was an absolutely great human being — kind, heart of gold, funny, easy to laugh, a real people person, who I've been told are the luckiest people. He was a committed shit-kickin' libertarian, and a funny storyteller who loved to practice his craft.
And speaking of "libertarian" — the reason Al wasn't at the legendary super-summit for Jack & the Beats in Boulder in 1982 that I wrote a whole book about was because he was running that year as the Libertarian candidate for Congress in the San Francisco / San Jose district in that 1982 midterm election.
Al was an absolutely essential person in Beat history. He kicked in the extra hundred bucks Neal needed to buy the Hudson that would go on to change history. He & Helen were the Cassadys best friends and stabilizing force in San Francisco during all those pivotal years. Carolyn may have enticed Neal to come to S.F., but it was Al who got him the job on the Southern Pacific Railroad that allowed him to actually live there. And as John Cassady reminded me last month in Lowell — he worked there for 12 years!
Also, I often joke about the relatively unknown fact that the reason the Beat Generation ended up having San Francisco as their secondary base to New York was because that was where Carolyn Robinson (before she became a Cassady) had moved and that Neal (then Allen & Jack) followed her there. An even lesser-known fact is — the reason Al chose S.F. to move to and thus get his Denver buddy Neal a job that sustained him was . . . because of allergies! Yep. The reason Neal was able to pollinate San Francisco was because Al Hinkle suffered pollen allergies in Denver and his doctor told him to move to a climate like San Francisco's. 🙂 True story.
.
One other funny thing — since Al was born before the ubiquity of automobiles, they were kind of a big thing for him. And until the day he died, I don't think he ever said the word "car" in his life. He always referred to them reverentially and respectfully by their proper term, as in — "We put gas in the automobile and took off." 🙂
.
Another funny Al memory — John & I were sitting in a theater watching a screening of Walter Salles's Searching For On The Road documentary . . . well, here's from my recent book of our Adventures . . .
A funny classic moment happened when Al Hinkle was on screen telling a story about he and Neal, and he mentioned, "There may have been a little bit of marijuana involved," and both John & I spontaneously blurted out loud in unrehearsed unison — "A little bit?!" 🙂
.
Here's my favorite picture I took of Al — with Merry Prankster Anonymous, at the Beat Shindig in S.F.
I captioned it in The Hitchhiker's Guide to Jack Kerouac —
"There wasn't a bridge between the Beats and the Pranksters — it was a loving embrace."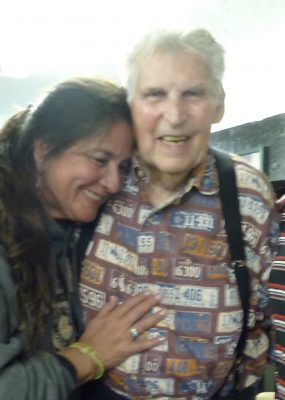 When I told Al that line the next day, he bellowed out a giant rolling loving laugh.
I know this may sound crazy, but I can play back in my head almost anyone I've ever known's laugh. And Al had two in particular. One was a kind-of high-pitched almost little kid's giggle, usually short, but pronounced and loud and shooting out straight ahead.
The other was — I swear this festive December week — a bone fide Santa Claus Ho Ho Ho! Which is what he did after I told him the caption line. He had an ample body size, and particularly if he was standing, he could really shake the room like the best Saint Nick you ever heard.
Seriously. Hearts on. Full gear.
.
Here we are with Jami Cassady … who first introduced me to her godfather … who was there at the hospital the day she was born . . .
. . . and here we are on stage together in San Francisco . . . Jami pointing to a picture of Al with his daughter and Jack with the Cassady daughters . . .
.
. . . and last year with brother John . . .
.
. . . and signing Sky's copy of the On The Road scroll version underneath Carolyn Cassady's portraits of Al and his wife Helen . . .
.
A favorite group shot — David Amram, Jami Cassady, Al, Levi Asher (Marc Stein) and myself at The Beat Museum's Beat Shindig in San Francisco in 2015 . . . with a copy of my book in his hand! 🙂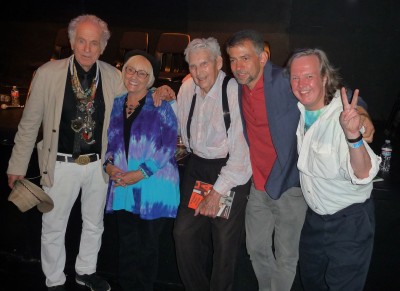 .
He liked to play with the lighthearted moniker he adopted — "Last Man Standing" — that he'd mention with a twinkle, whether on a stage, when signing a book, or even titling a book . . .
His book signed to me . . .
My book signed to him . . .
.
When I met the actor at the London premiere who played Al in the On The Road movie, I said, "I know you! You're Al Hinkle," and the British guy in Britain was pleasantly chuffed I knew not only his character but the person it was based on.
🙂
.
Like Carolyn, and unlike Jack & Neal, Al stuck to his college studies and earned his first degree from San Francisco State, then studied for his Masters at Stanford (!) in geography, which he then tied into multiple 6-month leaves from the Southern Pacific to go travel the world.
.
He was always gracious and joyous and smart and articulate and playful and sparkling and had an amazing memory filled with vivid image-splashing details like a novelist spontaneously creating a radio drama before your ears.
And he remained a committed ladies' man to the end — flirting with my girlfriend right in front of me . . . in his 90s!! 🙂
.
Here's a 3-minute hit single — The Beat Museum's Jerry Cimino reading my tribute poem perfectly and rhythmic at the "non-memorial memorial wake" in San Jose . . .
.
Here's an excellent video with lots of Al, plus Jami Cassady & myself, hosted by Levi Asher, on stage at the big Beat Shindig put on by The Beat Museum in 2015 —
.
Or here he is being funny & cool a decade earlier at the grand opening of The Beat Museum in San Francisco in 2006, shot by Warren Dean Fulton . . .
.
Here's a funny, fun, info-filled 2012 interview with Al upstairs at his home-away-from-home — The Beat Museum — with several of his favorite people in the world — his daughter Dawn, John Cassady who Al remembers being born, and The Beat Museum's Jerry Cimino who gave Al many of the best adventures outside of the house in his last decade or two, and in fact was the guy who suggested to Garrett Hedlund and John that they stop and pick up Al when they were driving the '49 Hudson used in the On The Road movie from L.A. to its soon-to-be home at the Museum in North Beach. And in fact, the classic photo used in the San Francisco Chronicle obit on Al was taken with Al in the back seat on that car trip.
There's more fun & laughs and lotsa Jack content in part 2 . . .
And here's more storytelling including some On The Road & Burroughs tales . . .
.
Here's sumore early-era Neal storytelling including their time together as a trapeze act (!) and them being there the day Jack received his first copies of On The Road . . . filmed by the great Beat documentarian Tate Swindell at a 2013 event at the legendary Sweetwater club in Marin County which also featured Ramblin Jack Elliot, Clark Coolidge & Joanna McClure . . .
.
Here's a funny Al anecdote from Garrett Hedlund starting around 2:50 about them calling Al via Skype to learn about using Benzedrine inhalers . . .
.
Thanks to The Beat Museum's Jerry Cimino, a thorough obit appeared in the San Francisco Chronicle —
https://www.sfchronicle.com/bayarea/article/Al-Hinkle-railroad-man-and-character-in-13496805.php?#photo-16701766
Here's a nice piece from the San Jose Metro where he lived . . .
The Final Beat: Remembering Al Hinkle
Here are some other great Al & Neal stories that Jerry from The Beat Museum captured.
Here's The Beat Museum's page on Al's Memorial in San Jose, including lots of video clips filmed by the great Tate Swindell.
.
Al is survived by his son Mark, his daughter Dawn, and his grandson Logan.
.
The great Al Hinkle
Sept. 4th, 1926 – Dec. 26th, 2018
.
.
Two Cassadys, two Carolyn portraits,
one Hinkle, one Hassett
= = = = = = = = = = = = = = = = = = = =
Here's some memories on the passing of our mutual friend Carolyn Cassady.

Or here's an alternate video version on YouTube.
Or here's the wild story of one of our crazy collective hangs . . . The Beat Shindig in San Francisco in 2015.
Or here's a book of mine with some good Al stories — How The Beats Begat The Pranksters.
= = = = = = = = = = = = = = = = = = = =
by Brian Hassett — karmacoupon@gmail.com — BrianHassett.com
Or here's my Facebook account if you wanna join in there — https://www.facebook.com/Brian.Hassett.Canada