A

Secret

Space

of

Dreams
.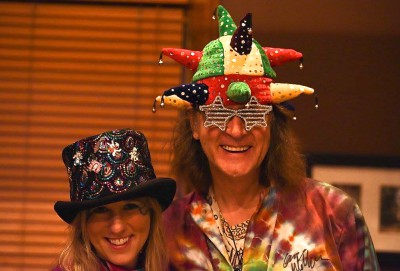 .
Somewhere in the Universe, Pranksters are gathering.
It's fireworks, calliopes and clowns,
And everybody's dancin' . . .
On fifty acres through country woods, with ponds and trails and fields and split-rail fences and immaculate stables and barns in fresh but classic rusty red . . .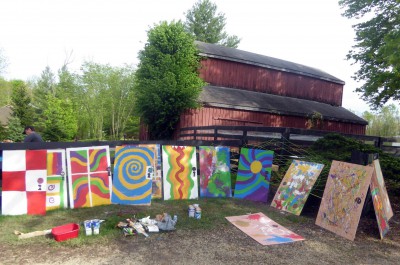 Now designed for 2-legged wild wooly wanderers,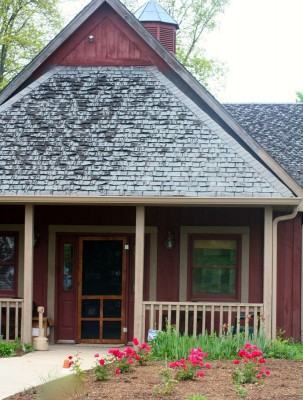 in a cluster of buildings with labyrinths of interconnected rooms that you can never really figure out how they tick-tocked jam-rocked together . . .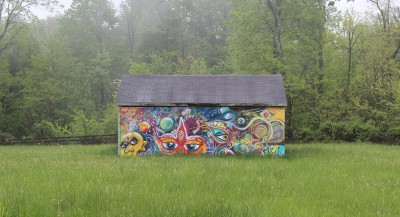 Offices and bedrooms and kitchens and lounges with stages and spaces with nothing but lights and screens and projections and bands and dancers to fill the air.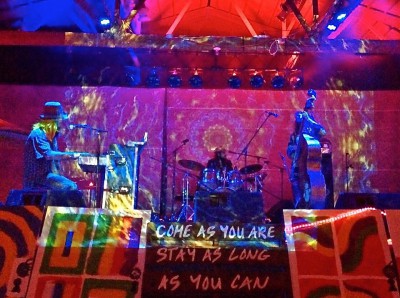 Characters in masks … Jackson Pollock splattered costumes … faces in flowing colors . . .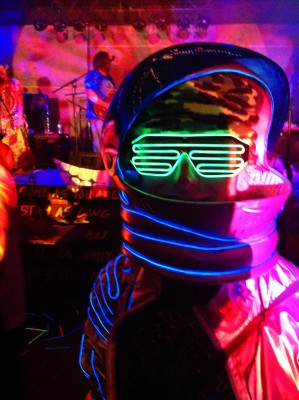 Days and nights and daze and knights,
and strangers stopping strangers
just to hug them tight.
As more and more Pranksters fall into the scene,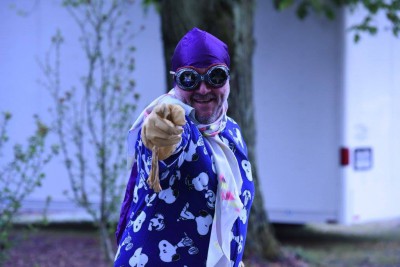 From wherever they've been —
A communal gene.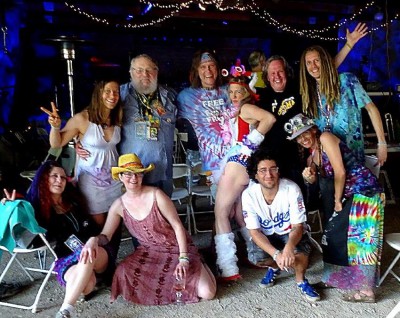 Twanging & twinkling — tootling & toasting — 
30 people put on a play.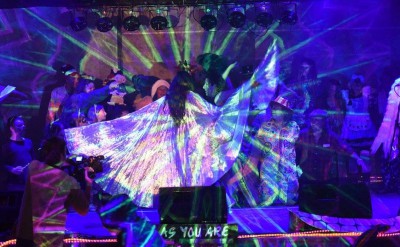 30 musicians play all day.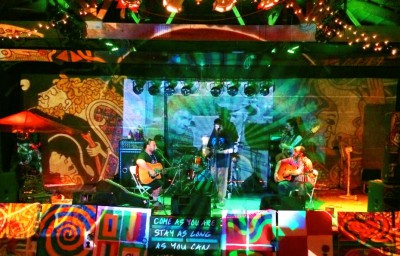 30 buses from far away.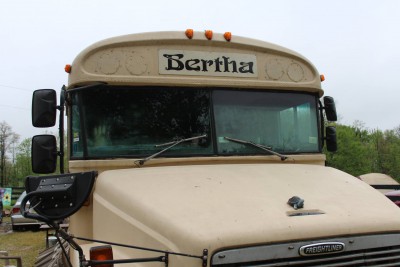 And 30 photos in this tray.  😉
As a Prankster drone captures an uncapturable krewe . . .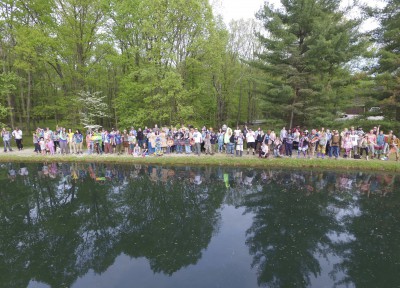 With women pirates capturing the island.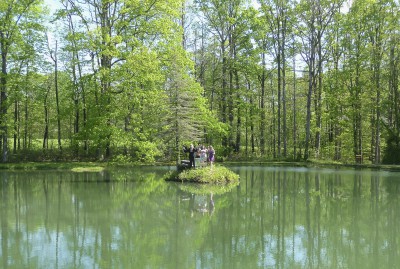 "Our women pirates are the finest to ever sail the seven seas," sez the Wizard of Wonder with authority.
.
As a UFO comes in for a landing . . .
And there's a micro-bus that could fit inside the first bus's pocket . . .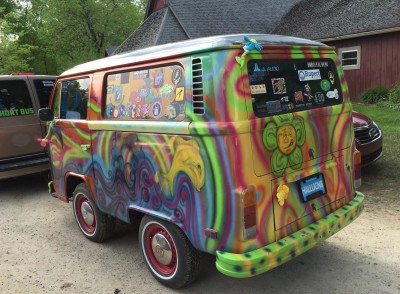 And there's a Wizard behind it all — and that's all you need know.
There's Canadians . . . Jacksters . . . Dawgz . . . & cats
from Lewis Carroll to Shakespeare's acts.
Doctors and lawyers and chefs and sculptors . . .
Cooking with gas in their midnight threads . . .
Smiling faces in swirling spreads . . .
Colored lights casting circles of rainbows . . . 
And jammin till dawn in the Gathering Room
with rock players, bluegrass, country, and blues . . .
Sculpting in air with many a muse . . .
.
A 30-second walk though hallways and doorways of the mystical labyrinth into . . . a big barn jam! 
With top-of-the-rock bandleaders, becoming one band, and taking a trip without leavin' the land.
And there's that UFO again!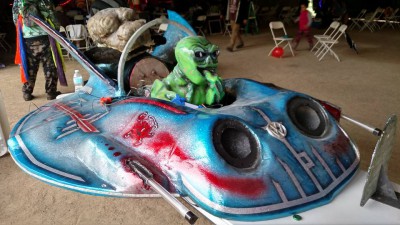 There's that girl you met at the Bernie rally.
There's that dude you met in Chicago.
There's that ongoing conversation about the greatest movies ever made.
There's the kitchen krewe with more mouthfuls of magic, 
As more beer & ice tumble in coolers.
Around the corner, back out to the tent,
Off in the distance, who knows where we went.
There's buses galore, and RVs and Airstreams . . .
There's Jerry above us in the hovering dreams . . .
. . . now a cat . . . and a rabbit . . .
and you know where you've fallen . . .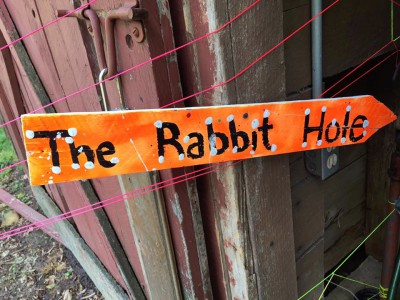 .
As another new ensemble rips up the stage . . .
one more one time lineup . . .
with a sax wailing in the jewel eye center . . .
then 3 drummers take off on a cascading riff …
as the room rides the rapids in a stage-front shift . . .
into a jammin' 10-minute 10-piece Shakedown Street that shakes down the house at 3AM . . .
And there's the filmmakers from tour … premiering their vision . . .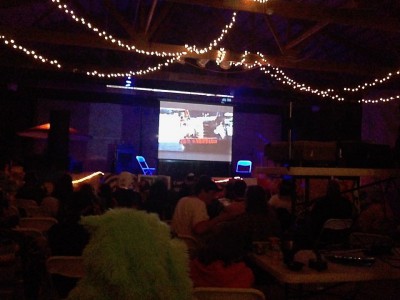 and the Oregon light show twisting the noodles . . .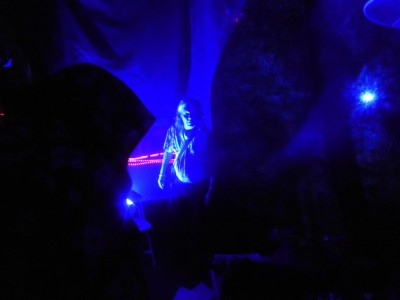 as the psychedelic string artist spiderwebs up the landscape . . .
"There's a whole lot goin' on that I don't know anything about,"
I remember thinkin' slurpin' Slurpees flippin' thru Rolling Stones back at the 7-11 in Winterpeg in the mid-'70s.
And here it is.
That world come true.
That family gathering
of like-minded Adventurers . . .
The ones who don't fit where the pace is slow . . .
The ones Jack described as "Go Go Go"
Who live by the hug, the only greeting they know.
Blissful adults channeling joyous children . . .
"The hardest working hippies in show-biz . . ."
Evolved players evolving evolution . . .
Dancing bears in peaceful revolution . . .
Nothing as expected around any corner . . .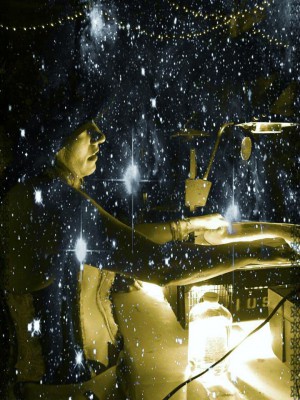 Surreal is real.
Surprises status quo.
A box becomes a boat.
A stage becomes a movie.
A dancer becomes a butterfly.
Now suddenly it's a barn stage peak —
People kickin' up dust, raising up Spirits.
One More Saturday Night. 
Chaos.
Perfect
lose-mind-ness.
Transportation provided.
Gone.
Boom!
Done.
Into that other world.
Not this one.
The Other One
With Cowboy Neal at the wheel
Dancing in Never-ever Land.
.
.
======================================
.
For more fun — here's last year's Pranksters In Wonderland.
And here's where it all started — The Pranksters at Woodstock.
Or here they are on a Mission on New Year's Eve.
Or here's a review of the new Prankster movie "Going Furthur"
Here's where I first met Ken Kesey — as recalled in "The Hitchhiker's Guide to Jack Kerouac"
Here's "The Hitchhiker's Guide to Jack Kerouac"
Here's some reviews from it.  And here's sumore.
.
Or here's a video of the opening blessing benediction performance of the weekend 🙂 —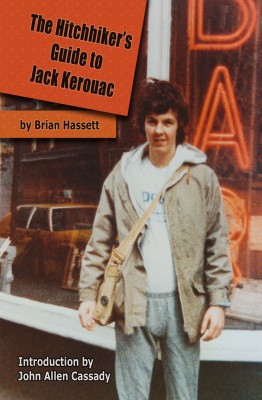 ===============================
by Brian Hassett
karmacoupon@ gmail.com     BrianHassett.com