Some of Jack's oldest & dearest friends
Edie, Henri and Allen 
Edie and I in her living room in Grosse Pointe with her Jack paintings.
.
An excerpt from
The Hitchhiker's Guide to Jack Kerouac:
The Adventure of the Boulder '82 On The Road Conference —
Finding Kerouac, Kesey and The Grateful Dead
Alive & Rockin' in the Rockies
Jack's first wife Edie was the one I could talk to back then — and in fact would grow to become close friends with shortly after Boulder.  She even enlisted me to write her autobiography with her, which seemed like the opportunity of a lifetime, until I learned she'd already scratched out a thousand pages … and wasn't even up to where she met Jack!  She was absolutely insistent that every detail of every moment of her life be included, and even at my young age with this huge opportunity before me I knew this would be an impossible task and we'd end up fighting over every detailed description of every piece of clothing she ever wore … so I didn't end up joining her on the journey and we stayed friends instead.
Where Jan and Carolyn were shy and quiet, Edie was a ball of fire — always talking, often to more than one person at once, telling stories, and relishing the spotlight.  Where Jan didn't want to go in front of a microphone, Edie would eat them up like the six sauerkraut hotdogs she ate the first time she met Jack, the story of which she probably told 60,000 times over that week.
She was a hoot, a bona fide character, "a real pisser" as they called people like her back in the day, a "dynamite broad," a catalytic woman, gregarious, a natural chatterbox, a female Neal in her confidence and making the party jump wherever she went.
She came with all these paintings she claimed Jack painted, but nobody was ever able to authenticate them. She had them displayed in her room and at an art gallery show that was part of the conference and she was trying to sell them or get them in a museum or something. Never happened.
She and Henri Cru were a real going concern for a while — until Henri made the mistake of introducing her to his friend Jack.  That kinda put a damper on their relationship for oh about 40 years.  But the old lovebirds finally reconnected in 1980 and became fast friends again for the rest of their days.  And I could sure see why after I also became friends with ol' Henri in the months following the conference.
These two birds were sure flappin' the same feathers — always workin' the angles to hustle a buck.  And I don't mean that in a bad way.  They were both generous, giving, loving, people people, but they always had some wild get-rich-quick scheme goin' and about 20 deals in the middle of being made at all times.  Jack coulda written whole books about either one of these two.
The thing about Henri was — he had the greatest laugh in the world — but Jack already told you that in "On The Road."  And yeah — there was a pattern here among his old compadres.  Henri was a born dry comic who loved to deliver drop dead funny lines totally straight and only move his eyeballs to see if you got it.  And if you did, he'd explode with this high-pitched hee-hee-hee which would make you laugh even more which would make him laugh even more.
He had these stock lines he'd deliver over and over — "You can't teach the old maestro and new tune."  Or "Plant ya now and dig ya later."  Or if someone wasn't talking, "You wouldn't say shit if you had a mouthful."  And for years he'd been immortalizing these sayings into rubber stamps he had made at some little shop in Chinatown.  He had hundreds of them stored in various old fishing tackle boxes — sometimes whole 3-sentence jokes he thought were hilarious but were really just extremely corny puns.  Maybe this was his way of getting his words in print like his friend Jack, I don't know, but sometimes he'd send out whole letters to people that were nothing but pages of his stamped jokes and quotes of wisdom!
Unlike the people who'd made the pilgrimage to Boulder, which Henri couldn't do because he'd just recently been confined to a wheelchair due to losing half a leg to diabetes, but he also wouldn't do it because he didn't share the assembled's awe of his friend since high school.  As Henri said, he "wasn't entirely pleased" with how Jack portrayed him in his novels (even though anyone who knew Henri knew Jack painted a vividly accurate and loving portrait), and he didn't care much for Jack's "fruity friends," or how rude he could be when drunk.  'Course, that didn't stop him from listing himself in the Manhattan phone book until the day he died as "Remi Boncoeur," the pseudonym Jack gave him in On The Road.  What the old buddies were, more than anything, were two dashing young men on the town on the make.  Neither of them, as it turned out, were really the settle-down marrying types (as Henri put it, "I don't breed well in captivity"), but they both loved to have a pretty woman on their arm and in their bed — and sometimes it turned out to be the same woman.
Henri Cru's 70th birthday – April 1991.
Henri in the chair — me in the peacoat,
Stringbeans Kurman & Tim Moran in the back,
Mary & Alexandra behind Henri,
outside the Blue Note Jazz Club
where we saw Maynard Ferguson,
West Third & Sixth Ave. in the Village,
with the famous Waverly Theater over our shoulders,
where "On The Road" would finally open in NY 20 years later.
This gathering in Boulder was the first time Edie'd ever appeared anywhere to talk about Jack — but then that was the case for a lot of these people, this being the first major summit and all.  But she knew Jack before anyone else who was here — having met him when they were both teenagers in 1939 and fallen in love not long after.
In fact, she had this whole thing she called "the '40s gang" — which was just her, Allen, Burroughs and Huncke — the core four who pre-dated everybody.  Neal, Carolyn, Holmes, Corso, Ferlinghetti — they all came years of youth later.  You remember who your oldest friends are — who came first, who dates back the furthest.  And same with Edie — acutely aware of who the original group was, and she made a point of reconnecting with each of them, but especially with Herbert who, for whatever reason, she seemed to dig the most.  But then — that was my vibe, too.
And just to be clear — Allen was The Man.  This whole thing happened because of him, start to finish.  As an event producer myself … you don't get to hang with your friends and have fun.  I mean, you do on a deeper and long-term level, but in the present it's all work, check lists, constant mental mapping of the future minutes, hours and days.
And that's what old Allen was doing — working his ass off — starting more than a year before this happened, and then all during it, not only coordinating every damn thing that went on, but also conducting writing workshops, doing reading performances (where he killed), press conferences, conflict resolution, into leading silent meditation sessions, then back into administrative crap, and more hassle defusing, and croissant monitoring, and panelist rescheduling, and housing management, and dinner arranging, and most importantly — Vibe Establishing.  It was all from his Tender Heart that this whole thing sprung and kept springing.  And he was everywhere at once.
Neal Cassady + Bill Graham = Allen Ginsberg
But first came Edie — who introduced her brainy boyfriend Jack to this cool guy from her Columbia art class, Lucien Carr … who in turn introduced Jack to his life-altering partners in crime Allen Ginsberg and Bill Burroughs … making it pretty easy to peg the Beat Generation's inception to Edie's introduction and the all-night drinking and talking and phonograph playing sessions they danced across the universe in the four rooms of the Morningside Heights apartment she shared with Lucien's girlfriend, then one Joan Vollmer Adams.
As much as Jack and the Beats were products and practitioners of the male-centric world of the 1940s and '50s, it was almost comically common for the women to be the real catalysts of creation.  It was Jack's mother who gave her grown-up son the love and shelter and stability to write and preserve his manuscripts.  It was his last wife Stella who mothered him after Mémère had a stroke, and was keeping his filing cabinets and archives intact after they both passed away.  It was Ann Charters who was the first scholar to take him seriously — and while he was still alive — showing up on his doorstep in 1966 to begin the work that would become his first biography.  It was his second wife, Joan Haverty, who had the job that paid the rent on the apartment at 454 West 20th Street that gave Jack the space to write his career-changing scroll of On The Road in that 20-day shot in 1951.  It was Carolyn who first moved to San Francisco, 1947 — long before Ferlinghetti or any of them — and THAT's why Neal went there, followed by Jack, Allen and the domino tumble of history.  And it was one wild fun-loving woman named Frankie Edie Parker from Grosse Pointe, Michigan, who chose to room with a like-spirited woman who would soon be Mrs. Burroughs just as she'd be Mrs. Jack and who together hosted the rented Eden from which an entire generation spawned.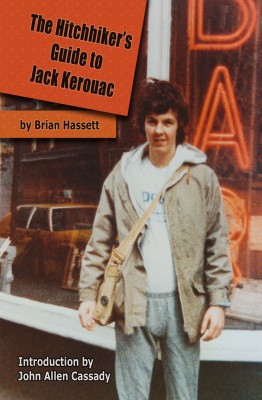 =====================================
You can order a copy from CreateSpace here 
. . . or Amazon here.
 ==============================================
Or here's a bunch of videos of performances from the book with all different line-ups of musicians.
Or here's a bunch of readers' reactions.
Or here's a bunch more rave reactions that came in from all over the world.
For more from the SuperSummit, check out Who All Was There.
Or … Meeting Your Heroes 101.
Or here's the part where we arrive at Red Rocks for the Grateful Dead show.
Or another Beat summit adventure at the Big Sur gathering in Northport.
For another cool riff involving both Edie and Henri, check out Famous People Who Didn't Have Kids.
Or my tribute to the mighty spirit and my close friend Carolyn Cassady.
To read my keynote essay from "The Rolling Stone Book of The Beats" on the decade that birthed the Beats — go here.
Or also from "The Rolling Stone Book of The Beats" — here's my riff on The Power of The Collective.
Or for an over-all on all the Beat movies that have been coming out lately and throughout history check out The Beat Movie Guide.
Or for another Henri Cru story check out When The Legend Turned 70!
Or for a nice Beat riff about the live shows we did so often in the Village you can check out Be The Invincible Spirit You Are.
Or here's where you can buy prints of the best photos taken at the Jack Summit, including some seen in my book — from the Lance Gurwell Collection.
==============================================
 by
Brian Hassett      karmacoupon@gmail.com      BrianHassett.com