Paul Simon certainly exceeded my expectations last night!
He and his two bands only had a couple warm-up gigs in Dublin before bringing back "Graceland" in front of 50,000 people in the most famous park in the English capital of Europe.
A 2 hour show became 3 hours, and he started at 7:20 to avoid the power-cutting curfew that befell Bruce and McCartney the night before.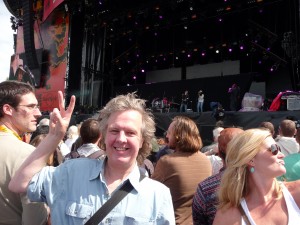 And speaking of that, it was wonderful that the Simon audience and all the opening acts were like a folk festival and not a rock concert in that it was easy to move around and there were very few drunk loogans.
Of course I experienced it from my standard 7-people from the front rail in front of the stage with 49,900 people behind me.
And as usual I unified a whole krewe of surrounding people, making friends and turning it into a large group party with Russians, Jamaicans, Americans, Dutch people with their Dutch cigarettes, and families-full of Brits.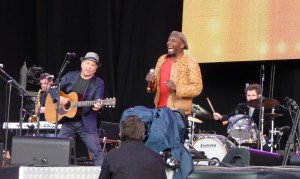 The show was really expansive — Jimmy Cliff fronting Paul's band for "The Harder They Come" and "Many Rivers To Cross" into Paul & Jimmy dueting on "Vietnam" and "Mother & Child Reunion."
Ladysmith Black Mambazo opened their part with two a capella songs that were reverence-evoking hymns and had the place jaw-dropped and hushed silent.
And then Paul comes out to join them for the very Zulu "Homeless" — which came across not about street-people or tragedy but how we are all persons of the planet — not one location.
And the Graceland stuff is just RIPPIN' !  "Diamonds On The Soles of Her Shoes," "I Know What I Know," "Boy In The Bubble," "Crazy Love," the wild energetic zydeco "That Was Your Mother" — and the whole 2 hour+ show builds to this monumental "Gumboots / Graceland" peak.
And in the middle of it Hugh Masekela comes out — the 73-year-old legendary trumpet & flugelhorn player from South Africa who does a "Bring Him Back Home (Nelson Mandela)" and then pretty-much steals the show with this riveting Beat-poetry meets scat-Zulu with Coltrane-sax and Miles-horn on "Stimela (Coal Train)."
Here's a version of him doing it with Paul's Graceland band back in the day … http://www.youtube.com/watch?v=J_uSl50k_BM
And "The Sound of Silence" was positively spooky in how its sound made utterly silent this enormous crowd who had just been dancing in exuberant reverie for hours — but suddenly it was church-quiet except for the faint collective harmony of people whispering the hymn along with the preacher.
And dobro master Jerry Douglas came out for "The Boxer," and bluegrass fiddle player Gabe Witcher from the Punch Brothers for "Dazzling Blue," and all these special guest African women singers . . . it was just uber-special, and of course I was right in front of the stage with a killer world-beat krewe.
Oh, and the weather was just Perfect even though it's been the rainiest summer in the history of the British Isles and had rained on every other big concert held there this month.
Proof. http://www.youtube.com/watch?v=OlXU-3ayq2w 😉
= = = = = = = = = = = = = = = = = = = = = = = = = = = = = = = = = = =
For more Adventures in Music — you may want to check out the New Orleans Jazz Fest ride.
Or how The Grateful Dead came to play my 30th birthday.
Or the night Dylan showed up at Springsteen's show at Shea Stadium in New York.
Or when Neil Young returned to Massey Hall in Toronto.
Or Furthur came back and reprised the Dead at Madison Square Garden.
Or when the Dead, Janis, The Band and others took the Festival Express train trip across Canada.
Or that time with The Merry Pranksters at Yasgur's Farm.
Or the night I was hanging with Dr. John's band in Toronto.
Or here's the day I finally "got" Bob Dylan.
Or the night we all lost John Lennon. 
Or the (Route) 66 Best live performances ever captured on film.
=========================================
by Brian Hassett      karmacoupon@gmail.com        BrianHassett.com