Here's the (Route) 66 greatest musical performances ever captured on film — after watching thousands of clips and reviewing hundreds of them for RockPeaks, this is the best of the best . . .
And it tells a story, one complete show of shows, in a sequence of greatness . . .
Blessing the blast is Johnny Clegg bringing Nelson Mandela into the house during the celebratory Asimbonanga
Then there's the original Freedom Singers singing to Barack Obama in the White House — (Ain't Gonna Let Nobody) Turn Me Around
and  The Blind Boys of Alabama in the promised land testifying Free At Last
into the goosebump-raising heavenly channel Yolanda Adams bringing home Sam Cooke's gospel A Change Is Gonna Come
and extending it further, the Dixie Chicks standing up for a different kind of right and serving notice they're Not Ready To Make Nice
and finally the prophet Max Yasgur delivering the greatest performance in the history of rock n roll . . . on his farm.
Then here's David Crosby channeling the Angels — Almost Cut My Hair
into Billy Preston channeling the Gods — That's The Way God Planned It
or the Grateful Dead channeling Buddy Holly in a joyous 10 minute Not Fade Away
or here's Yolanda channeling the Gospel of  John as she beautifully Imagines
and if you haven't yet, you need to experience Christina Aguilera channeling James Brown at the Grammys doing It's A Man's Man's Man's World
. . . or here she is Making Me Wanna Get Down and Pray,
. . . or here she is with Yolanda, Jennifer, Florence and Martina collectively channeling our Queen Aretha at the 2011 Grammys;
or there's John Mayer channeling Miles Davis and Michael Jackson with Human Nature
or Elvis Costello and The Police channeling Cream in the Sunshine of Your Love.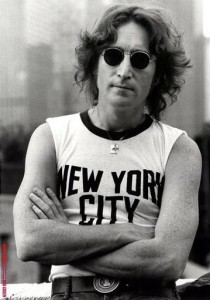 Or here's, say, John Lennon playing with his hero Chuck Berry on Johnny B. Goode
. . . or shivering through Cold Turkey
. . . or  signing off for his sabbatical with his hopeful admonition to Stand By Me.
Or here's Jeff Beck taking you Somewhere Over The Rainbow
. . . or here he takes The Beatles masterpiece for a masterful ride on A Day In The Life,
or here's a young Genesis with Peter Gabriel confirming I Know What I Like
or a young Dire Straits in their first filmed performance doing Sultans of Swing
or a young Sleepy Man Banjo Boys before their first record sparkin' a Flint Hill Special
or a young Elvis Costello & the Attractions emphatically confirming they Don't Want To Go To Chelsea,
or a Young Neil — solo electric, ripping us a new Ohio
. . . or here he is stealing the show at Bobfest with a thrashing Hendrix Watchtower
or here's Jimi himself ripping the heads off the young Lulu children with a little Hey Joe into Sunshine of Your Love
or The Who blowing up the Smothers Brothers' stage during My Generation
or Ian Dury bringing it right down to the Sex & Drugs & Rock & Roll basics
or Johnny Winter and Dr. John visiting their crazy cousin Johnny B. Goode
. . . or that raging white Winter blazing along the Bobster's Highway 61,
Or here's the earliest existing Grateful Dead footage, tripping in time at Monterey Pop '67 — Viola Lee Blues
. . . or Garcia's best rock n roll solo ever caught on film — from the Festival Express in Calgary, 1970  — Hard To Handle
. . . or here he is on "Playboy After Dark" doing the acoustic Middle Ages' Mountains of The Moon.
Or here's Michael Jackson's greatest filmed performance of his greatest song Man In The Mirror
or world-beat master Peter Gabriel with a stage full of friends and drummers beating In Your Eyes
or the beatific balladeer Van Morrison with an all-star band of Hall-of-Famers doing Moondance
or the original liberated grrrl power preacher Dusty Springfield testifying about being the Son Of A Preacher Man
or the original Alice Cooper band on their School's Out tour doing a prankster-embracing Public Animal #9
or Manfred Mann's Earth Band completely reinventing Dylan's Mighty Quinn
. . . or similarly rewriting Springsteen on "the Midnight Special" — Blinded By The Light.
Or here's some spiked Joe Jackson kickin' it Little Richard with I'm The Man
or Ray Charles causing all kinds of trouble with What'd I Say
or Neil, Bruce & Fogerty raisin' all sortsa hell while Rockin' In The Free World
or buckle in for a trio of Dave Brubeck's fastest master-melodies — Unsquared Dance,  Take Five  &  Blue Rondo
or join Gil Scott Heron's jazz-chant to "Celebrate your life" without The Bottle
or some upbeat Sara Bareilles at 8 in the morning slammin' the King of Anything
or Jon Anderson & an orchestra getting exhilaratingly Close To The Edge
or Winwood & Clapton painting a masterpiece with only blind faith — Can't Find My Way Home
or another ol' buddy duo, Simon & Garfunkle, sharing a moment with a half-million friends in Central Park — The Boxer.
Or you can be Fallin'  in and out of love with Alicia Keys
or let sista Jully Black show you how to be a Seven Day Fool
or get seduced by a sultry Fergie as she steals the show from Mick and U2 during Gimme Shelter
or go dancing with Cuban hottie Gloria Estefan doin' the Conga
or have sex with a positively orgasmic Stevie Nicks channeling Rhiannon
or get dominated by a smokin-hot red-leathered Sheryl Crow struttin' her stuff in The Neighborhood
or invite Joni Mitchell to shine her delicate light along the road to Woodstock.
Or you can join The Rolling Stones' circus On The Road and jamming with Stevie Wonder in Robert Frank's unprintable doc
or hear the original — Jack Kerouac — spinning his magic and taking you On The Road
or get in the car with Sal, Dean and King Crimson doing Neal and Jack and Me
or perhaps you'd like Allen Ginsberg and a Beatle playing Ballad of The Skeletons
or maybe a Beatle and a Zappa at the Fillmore East doing Baby, Please Don't Go
or you can always listen to Roy Zimmerman answer the musical question What If The Beatles Were Irish?
Or there's the option to screech off with a maniacal David Lindley in his Mercury Blues
or jump into Bobby McFerrin's one-man-band car and Drive
or just take a stroll with John Fogerty to see The Old Man Down The Road.
Anywhichway, you're gonna end up in the Promised Land.
= = = = = = = = = = = = = = = = = = = = = = = = = = = = = = = = = = =
For more Adventures in Music — you may want to check out the New Orleans Jazz Fest ride.
Or how The Grateful Dead came to play my 30th birthday.
Or there's the time George Harrison saw the Beat play The Beard and raved about it to Paul McCartney.
Or for another cool list riff involving about a hundred musicians check out Famous People Who Didn't Have Kids.
Or hanging out with this list's #1 music man Johnny Clegg.
Or Paul Simon doing Graceland in Hyde Park in London.
Or the night Dylan showed up at Springsteen's show at Shea Stadium in New York.
Or when Neil Young returned to Massey Hall in Toronto.
Or Furthur came back and reprised the Dead at Madison Square Garden.
Or when the Dead, Janis, The Band and others took the Festival Express train trip across Canada.
Or the night I was hanging with Dr. John's band in Toronto.
Or here's the day I finally "got" Bob Dylan. 
Or the night we all lost John Lennon. 
=========================================
by Brian Hassett      karmacoupon@gmail.com        BrianHassett.com