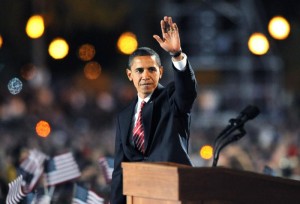 The Post Election Numbers:
The Presidential race —
I finalized my predictions on Nov. 1st, and called the final Electoral College to be:
367  to  171
and it turned out:
365  to  173
🙂
"My bad":  I thought the Dems would pull off North Dakota;  and I gave Indiana to the Repubs, but the Dems squeaked it out by .9%.  And then McCain eventually won Missouri by .1%!  🙂
Missouri & Montana were my two final changes 🙂  All along, I was calling Missouri for McCain, but at the last moment (!) I switched it, figuring the national "mo" that was with Obama would sway the ".1%" in Obama's favor and keep Missouri's streak going.  But, nooooooooo.
Also:  I figured McCain would get 56 million votes, and that's exactly what he got on election night, but ended up with 59 million after all the absentees were counted.
I called Obama hitting 70 million votes, and he ended up with just over 68,500,000 — so, damn close there.
I figured the spread would be:  54% – 45%.  . . . Turned out: 53% – 45.7%.
I called the Senate:  56 – 42 – 2
and at present it's:  56 – 41 – 2 — with Minnesota yet to be decided.
Without knowing much about the House, I guessed it would end up 265 – 170, and it currently stands at 255 – 176, with 4 undecided.
= = = = = = = = = = = = = =
Final Numbers (as of Dec. 9th):
Obama:  68,520,000 votes, . . .  52.79%
McCain: 59,455,000, . . .    45.81%     (1.4% for "other")
total votes cast:  129,786,000
(source for the above: The Green Papers)
November 2008 U.S. population:  305,836,000  (U.S. Census Clock)
Total registered voters:  169 million (86 m. Dems, 55 m. Repubs, 28 m. independents) (source: Wikipedia)
=============================================
 For one of the most historic events in American history — check out my Obama Inauguration Adventures.
For how Woodstock promoter Michael Lang used my reports in his book — check out how Obama's Inauguration was like Woodstock.
For an account of the most jubilant night in the history of New York — check the Election Night 2008 Adventure. 
For a night in New York that started out just as joyous — check out the Election Night 2004 Adventure.
For the kind of creations that got us across the historic finish line — check out my poem and video for Where Wayward Jekylls Hyde.
For an on-the-campaign-trail adventure — check out the physical altercation I was in the middle of with Al Franken at a Howard Dean rally in '04.
For my tribute to a great political reporter — check out my Tim Russert tribute.
For a full listing of great reporters and news sources — check out my Political Sources Primer.
For how well these sources work — check out my 2012 election predictions.
… or here's the 2008 projections — in both, I'm over 98% correct.  😉
=============================================
Brian Hassett  — karmacoupon@gmail.com