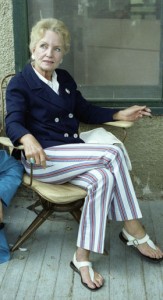 Happy B Day to The Big C!
A girl so nice you had to C her twice!
It's the Big Sea at Big Sur!
And finding the sacred rocks to reflect,
and seeing the glistening gems shine thru
the crashing waves of life
with you.
I saw the best minds of my generation get buzzed on wine coolers before breakfast!
The only ones for me are the mother ones, the ones who are heart to live, never mom to talk, but always winking saved, and desirous of everything at the same time, the ones who never yawn except when it's really really really late, and who burn, burn, burn like fabulous yellow van Gogh paintings exploding across the sky, and in the middle we see your face and everybody goes, "Awww!"
There she is!
Mother Earth!
Mother Mirth!
Who taught me courtesy
while pushing curiosity;
and how to laugh
while grounding me
in eternity;
and about my own Taurus mother,
and the joys of inter-generational adventure fun,
which I brought home and shared and we thrived and we laughed and I thank you.
Boy, do I miss those living rooms full of time,
and glasses full of wine,
and laughing so loud
we had to turn it down,
and driving and "oh goshing" all around
that San Francisco town
and even being Europe bound!
From the Algonquin's table,
yet another round;
to loving glances
with clinking glasses
on police station steps
as we stay out of step
with the stomping classes,
dancing in the eternity
of the songs and the stories that echo forever.
Thanks for caring, and thanks for sharing
a life that's rife with light at night;
You've held my hand across more than an ocean,
in a rainbow of color
that seemed to come from above.
But you said,
"It comes from within."
And that's why I love you!
Mighty Teacher!
Mighty Mother!
Mighty cool you're still shining today!
Muchos love from the universe, sweet angel!
Love, Brian
=============================================
For my tribute to Carolyn on her passing — check out the Carolyn Cassady Tribute.
For a video tribute to Carolyn on the one-year anniversary of her passing — check out Makin' Movies.
For an excerpt from my book about the '82 Kerouac Conference in Boulder — check out Meeting Your Heroes.
For more from the Boulder Beat Book — check out Who All Was There.
For a vivid account of being at the historic "On The Road" scroll auction — check out The Scroll Auction.
For a story about Henri Cru's birthday — check out The Legend Turns 70.
For the London premiere of "On The Road" Adventure in the outdoor courtyard at Somerset House — go here.
For a great story of the world premiere of the new shorter final version of "On The Road" — check out this Meeting Walter Salles Adventure!
For the New York City premiere and afterparty Adventure — go here.
For a complete overview of all the Kerouac / Beat film dramatizations including clips and reviews — check out the Beat Movie Guide.
For an inspiring description of being at a Beat jazz-&-poetry reading in Greenwich Village — check out Be The Invincible Spirit You Are.
For an account of the historic Beat show at the Whitney Museum in New York — check out Wailin' at the Whitney.
For a fun storytelling Adventure poem with Vincent Van Gogh — check out Visiting Vincent.
 ==================================================
Brian Hassett       karmacoupon@gmail.com      BrianHassett.com