George Walker & Brian Hassett
Present
Jack Kerouac & Neal Cassady
.
.
George Walker & Brian Hassett first met in Boulder Colorado in July 1982 at the historic Jack Kerouac On The Road 25th Anniversary Conference — where Hassett ran the projector for their multimedia "Cassady" show — and then hung again the following month at Ken Kesey's home in Pleasant Hill Oregon.
Flashforward to 2015 and Walker is given a copy of Hassett's The Hitchhiker's Guide to Jack Kerouac (about that very summit in Boulder!) by Jami Cassady (Neal & Carolyn's daughter) and "read it cover-to-cover as soon as I got it – and loved every minute of it!"
This led Walker to read numerous other Beat and Prankster stories on Hassett's website, prompting him to write, "I often wonder why I go on this damn thing [the internet] and then every once-in-a-while I find something like this!"
The following summer of 2016 they met up for the first time in 34 years on the tour for the "Going Furthur" film they both appear in.
.
Walker was holding court with a half-dozen people behind the theater, and when Hassett first walked up after all these years, he blurted out to his crowd, "Now here's somebody I look up to!"
An hour after they first saw each other again — already jammin deep
.
Followed by a side "trip" to the Church of Sacred Mirrors (COSM)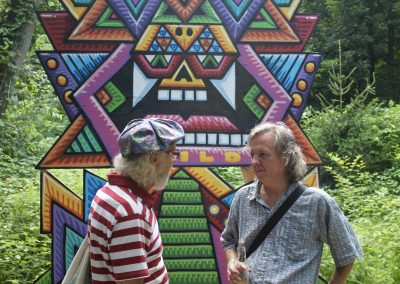 They next came together at the Merry Prankster / Twanger Plunker Family Reunion in May 2017 where Hassett opened the weekend festivities with a spoken word / theater performance, after which Walker said in bug-eyed astonishment — "I'd never seen you on a stage before!  That was unbelievable, man!"
That afternoon, hanging in their mutual friend Spirit's trailer,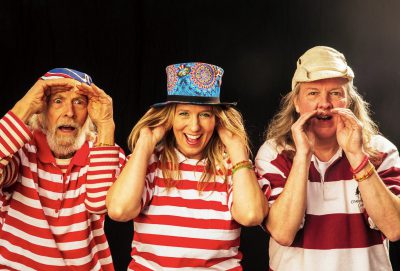 with Walker still gushing about the show, Hassett said, knowing Walker's close friendship with Neal Cassady, "We should do something together.  You read Neal and I'll read Jack.  We could do that 'IT' part from On The Road where they're sitting in the backseat talking like crazy," and Walker's face was bouncing up and down, "Yes Yes Yes!"
The next day, 15 minutes before the show, Walker read that part of On The Road for the first time in 30 years . . . and was Neal from the opening line of a cold read-through.
He'd first spontaneously channeled his good friend Cassady back in 1973, reading him aloud at fellow Kesey/Cassady pal Ed McClanahan's house, whereupon everyone stopped what they were doing and listened to their old friend appear in the room.  Walker says he's been trying to find a way to bring Cassady to life on a stage ever since.
Hassett has been performing Kerouac on a stage since at least 1994 when he started producing, hosting and performing in a series of Kerouac-inspired shows in Manhattan, L.A., Amsterdam, London, Toronto and elsewhere.  Although duetting with countless others over decades of shows, he's never had a stage partner until now.
The duo flourished because it was loving magic from the first moment they got near microphones.
.
And since things had gone so well the first time, they did it again on the outdoor stage the next night.
.
And since that had gone so well, and Hassett was already booked to do his "Beat Café" at the world-famous Beat Museum in North Beach San Francisco on Friday June 2nd to kick off the 50th anniversary of the Summer of Love, that became the first Hassett–Walker full show.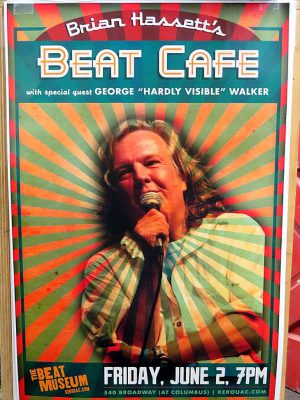 .
Which brought more people into The Beat Museum than any event they've ever put on in their history (other than a memorial for a fallen giant).  And for the first time, the duo improvised on stage in character as Jack & Neal.
The show killed.  Video to follow.
Walker, Hassett & Mountain Girl (Carolyn Garcia) in the Haight, June 2017
Hassett was also booked at the landmark Tsunami Books in Prankster headquarters Eugene Oregon, which then became the second Hassett–Walker show.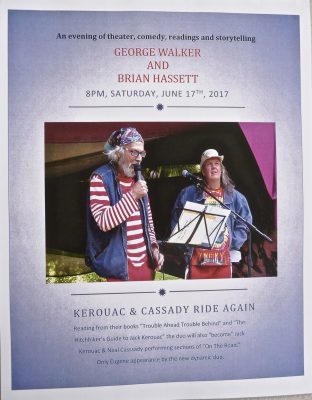 Mountain Girl introduced the pair . . .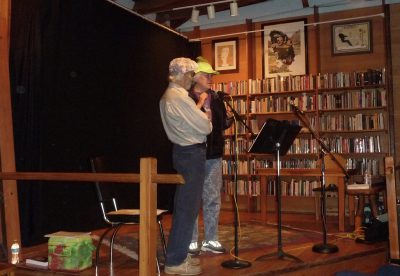 with her daughter Sunshine Kesey and Ken Babbs in the audience laughing and clapping, the show prompting Tsunami owner Scott Landfield to blurt out, "You just had that audience entranced for two hours.  That doesn't happen.  You can't do that with just spoken word."
The show killed.  Video to follow.
Which prompted them to book a Portland show, and with a week's notice, packed the classic Kerouacian American highway roadhouse, The Rosebud Cafe, which turned out to be the real birth of the duo.  For the first time, in a venue far far away, they both found their voice and rhythm on a whole 'nuthur level.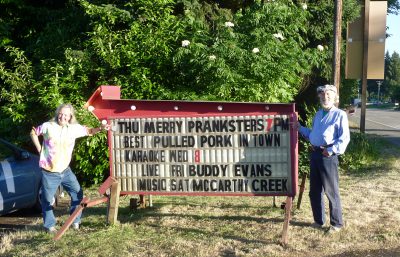 The show killed.  Video to follow.
Which segued into the climax of the West Coast Summer of Love Tour in the home of the very first Acid Test — Santa Cruz.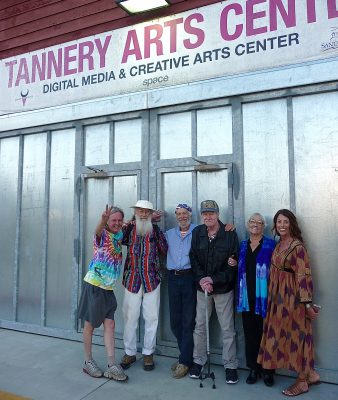 Hassett, Roy Sebern, Walker, John & Jami Cassady, Angela Chesnut
And they were joined by Neal & Carolyn's only son John Allen Cassady . . .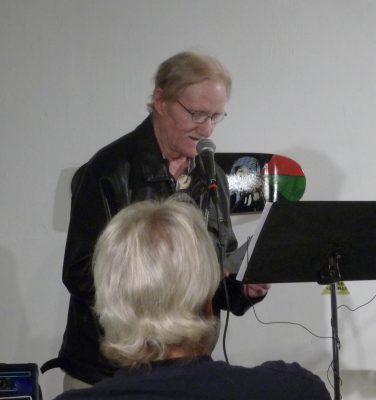 and their daughter Jami . . .
In fact the Huffington Post even wrote about this one!
The show killed.  Video to follow.
.
And then the duo went and filmed the "IT" scene in the back of the '49 Hudson (that was used in the movie On The Road) at The Beat Museum . . .
Video to follow.
Then over to the Cassady's old house at 29 Russell St. where the classic Jack & Neal shot was taken by Carolyn Cassady in 1952 . . .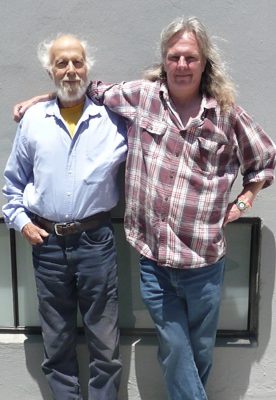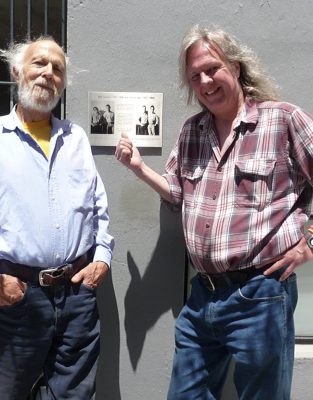 And out to touch base with The Bus that started it all . . .
The original 1939 International Harvester … with the original driver/mechanic.
The most famous bus in America — according to Time Magazine.
And while all this was happening they got booked at a few festivals in the North-East . . .
= = = = = = = = = = = = = = = = =
Upcoming 2017 Shows:
One Vibe Festival — Fri. Sept 29th (7PM-ish) & Sat. Sept 30th (4PM-ish)  — La Fargeville, NY
Lowell Celebrates Kerouac — Sat. Oct. 7th — 2 shows — 12:30 George & Brian / Jack & Neal duet at Pollard Library — and 4PM Brian Hassett's Road Show at The Old Worthen — Lowell, Mass.
The Bitter End — Sat. Oct. 14th — 5:00–6:30PM — Greenwich Village, New York City
Keystone Harvest Test — Sat. Oct. 28th (6PM-ish) and Sun. Oct 29th (4PM-ish) — White Haven, PA
Junction City Music Hall — Fri. Nov 3rd (8PM) — Toronto, Ont., Canada
More to be announced soon.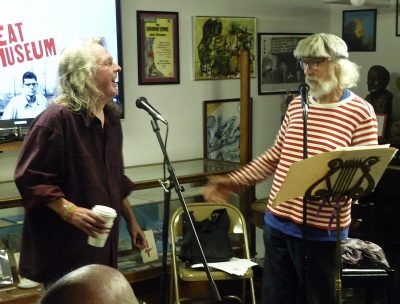 .
New handmade signed & numbered every-one-different tour shirts just came out of the studio and you can get them on Sky's website.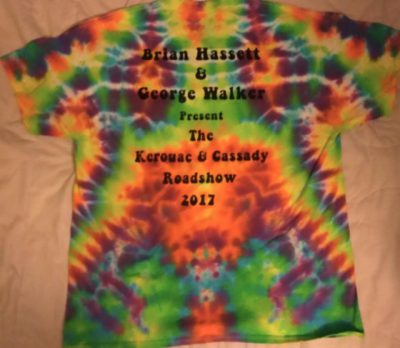 Dig those colors and the flow.  😉
= = = = = = = = = = = = = = = = = = = =
Shows & Set Lists Thus Far

. . .
Twanger Plunkers / Merry Pranksters Family Reunion, Bloomington, Indiana
1. Sat May 6th, 2017
George introes Brian
On The Road "IT" passage in big tent
2. Sun May 7th, 2017
On The Road "IT" on main outdoor stage
= = =  WEST COAST – SUMMER OF LOVE TOUR – 2017  = = =
3. The Beat Museum, San Francisco, CA — Fri. June 2nd, 2017
Jerry Cimino intro
Shindig Sutra excerpt
Rolling Stone Book of The Beats — The Power of The Collective poem
Hitchhiker's Guide — start of San Francisco chapter (27)
Duet — On The Road "IT" passage
Kerouac's Pic — Bus / Road chapter
George tells story of the final Jack-Neal meeting in New York in 1964 —>
Duet — G & B improv on Jack & Neal being at The Beat Museum
—> "Nebraska" road trip passage from On The Road
Hitchhiker's Guide — climax of San Francisco chapter
4. Tsunami Books, Eugene, Oregon — Sat. June 17th, 2017
Mountain Girl intro
Duet — "IT"
George — "Trouble Ahead" ending
Brian — Hitchhiker's Guide — ending – arriving at Kesey's (ch. 28-29)
Duet — On The Road – Neal at the Hinkles' party
George — storytelling
Brian — Hitchhiker's Guide — Babbs's house  —> Kesey's Bus (ch. 30)
Duet — improv —> "Nebraska" from On The Road
George — Spit In The Ocean Kesey tribute — buying the first Bus story
Brian — Hitchhiker's Guide climax & ending poem (ch. 31-32)
Duet — improv —> Kerouac's "Hearing Shearing" —> On The Road driving south from New York
5. The Walker Estate, Scappoose, Oregon — Wed. June 28th, 2017
"IT" — with Lee Taylor on tenor sax
Brian solo – Be The Invincible Spirit You Are
6. Rosebud Cafe, outside Portland, Oregon — Thurs. June 29th, 2017
Albert Kaufman intro
Duet — On The Road "IT" — with Lee Taylor on tenor sax
Brian — Hitchhiker's Guide — how it began (ch. 1)
George — Trouble Ahead
Brian — Al Hinkle–Neal trapeze circus story —>
Duet — OTR Hinkle's Party
Brian — Hitchhiker's Guide — in Oregon & On The Road (ch. 2)
George — Cassady poem
Duet — improv —> Nebraska
7. Radius Gallery, The Tannery Arts Center, Santa Cruz — Monday, July 3rd, 2017
John Leopold intro
Duet — On The Road – "IT"
Brian — Hitchhiker's Guide excerpt, Carolyn/Jan/Edie (ch. 21)
George — Trouble Ahead — the opening, in the car
Duet — OTR Hinkle's party
Jami Cassady — Off The Road
George — Trouble Ahead ending
Duet — improv —> OTR Nebraska
John Cassady — 2 pieces from his Visions of Neal chapbook
Brian — Hitchhiker's Guide — Neal Cassady tribute by Dead members (ch. 13)
Duet — improv —> OTR – leaving New York
= = = = = = = = = = = = = = = = = = = = = =
George Walker — a natural storyteller and author of Trouble Ahead Trouble Behind about a fantasy road trip with Jerry Garcia and the ghost of Neal Cassady, and a contributor to the all-star All About Kesey tribute, Walker was there the day Ken bought the original Bus, and became its chief mechanic, as well as one of its drivers along with Neal Cassady on the legendary '64 trip across America chronicled in The Electric Kool-Aid Acid Test.  An active participant in all the early Tests — the puddle The Grateful Dead were born out of —  he became one of Cassady's closest friends through the last years of his life, including taking several road trips to Mexico and elsewhere together.  Although his ironic Prankster name was Hardly Visible, he was just the opposite, remaining intricately involved in every Prankster production and Bus trip over the decades, including the Cassady show; playing the Tin Man in Twister; at the Rock & Roll Hall of Fame induction in 1997; on the Where's Merlin? tour through the U.K. in 1999; as well as staring in and helping create both the original Prankster movies, The Merry Band of Pranksters Look For A Kool Place and North To Madhattan, and being the live touring Prankster face of the 2016 Going Furthur documentary.
.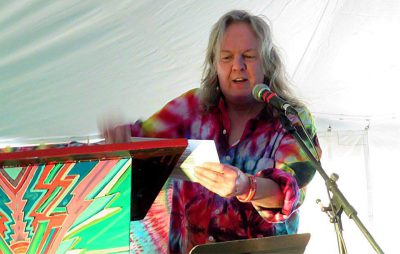 Brian Hassett — author of The Hitchhiker's Guide to Jack Kerouac about the historic 1982 Kerouac summit, and contributor to The Rolling Stone Book of The Beats and the upcoming Kerouac On Record, Hassett first began producing multi-band multimedia Acid Tests in 1977.  He continued in show production, touring with Yes in 1979, and working in the office with Bill Graham putting together The Rolling Stones tour in 1981.  He produced the concerts at NYU in Greenwich Village for many years, including a massive Acid Test with Country Joe, Rick Danko, Paul Butterfield & the Joshua Light Show in 1982, which actually won him the Programmer of The Year at the university.  He became close friends with Edie Kerouac (Jack's first wife), Henri Cru (Remi Boncoeur in On The Road), and Carolyn Cassady (the love of both Jack & Neal's life).  He inducted Jack Kerouac into The Counterculture Hall of Fame in Amsterdam, and co-inducted Neal Cassady along with Carolyn and John Cassady.  He produced and hosted the 50th anniversary of Kerouac writing On The Road shows in April 2001 in both New York and L.A. (along with S.A. Griffin), as well as numerous Kerouac-themed shows in New York & elsewhere in the 1990s and early 2000s.  He's been a fixture at the Lowell Celebrates Kerouac festival the last several years, and regularly opens the Prankster Family Reunion each summer.
.
= = = = = = = = = = = = = = = = = = = = = =
Brian Hassett  —  karmacoupon@gmail.com
George Walker — georgewalkerax@gmail.com
https://www.facebook.com/Brian.Hassett.Canada
https://www.facebook.com/gwalkerax
.
With Phil Lesh at his July 4th party at Terrapin Crossroads
.