chapter 3 — Meeting Your Heroes 101
(excerpt from my forthcoming Boulder '82 Beat summit book)
One of the first and forever impressions I had was — being on the inside hanging with Allen and his loopy longtime lover Peter and Beat badboy Gregory Corso and cigarette-chaining novelist John Clellon Holmes in their little homes, just watching these guys, these old friends who'd been brothers of the night and the light since they were the age I was as I was meeting them, and now here they were much older, full-grown adult MEN, who were still pranksterish, still plotting cool adventures, still finishing each other's sentences, still knowing what the other meant by just a gesture or a silence, and making each other laugh, constantly, but all within the context of business, productivity, doing things, writing things, working things out. They weren't sitting around talking about sports or half-assed pontifications about politics or trying to prove they were up on the latest band like so many people my age. No. They'd been playing this poetry productivity game forever and probably never even noodled in those foolish things but were talking about philosophy and spirituality and writing and writers and quoting themselves and quoting others and talking over each other and as excited about tomorrow as little kids.
Allen was definitely the professorial boss, the accepted (but not to say unchallenged) ringleader. He was always carrying around this cloth sorta Guatemalan over-the-shoulder bag full of papers and folders and books and god knows what, and usually wore some stray suit jacket a couple sizes too big for him with some tie a couple sizes too small. He was gentle, but vibrant; soulful but lascivious; clipboard following but constantly poetically improvising. He was sort of the one and only father figure keeping an eye on everything, yet was always fun to be around. He had no problem correcting or admonishing someone, but did so with love and tenderness of demeanor.
He was like a referee in a pick-up game — making sure we played by the rules, but knowing the whole game wasn't too serious.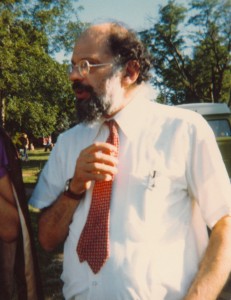 Gregory always had on this black leather vest looking like a slightly older Dylan from "Street Legal," like a hot happening sexy dude, with a full head of bushy black hair. He would definitely have been the (and probably only) lady's-man of the group. He didn't give a damn about the outcome of the game, he just wanted to score. He was definitely the Puck, the imp, the joker, and the one most likely to be called to the principal's office. And thank god he was in with the principal or he woulda been expelled fer sure!
And a neat thing I loved — the long-form novel writer John Clellon Holmes had a slower cadence than the rest, and a softer voice, and when he'd solo on his Horn, the rest of the band laid low. There was an unspoken respect — perhaps still stemming from him being the first of any of them to have a book published, his historic novel "Go," in 1952, that was the first time any of these dynamic soon-to-be-famous young men were captured in print. He wouldn't speak too often — whereas Allen and Gregory were like Dizz and Bird, constantly playing off and over top of each other — but John would come in like the organ and lay down these thick slow chords that would then totally alter the next round of soloing. He was Zeppo, the thoughtful straight Marx Brother who didn't really fit in with the others, yet was one of them, and there was nothing he could do about it.
What was extraordinary was that they were exactly like I dreamed and imagined they would be — and as they conveyed themselves from the '50s. Close friends just hanging out, but always up to sumpthin.
And I thought back to seeing that poster that made me embark on this trip, and the fate of that, and how it was the phrase "Partially funded by The Grateful Dead" that tipped the scales from a "I should go" to an "I'm going" — but whatever the hell it was, I'd somehow made my way here and was now studying Hangoutology with my heroes. And unlike hanging with rock stars, as I had been the last few years, writing was my art form of choice and practice. Instead of being in private circles of master musicians, I was now sitting among the masters whose music I played.
And another guy who blew me away early and often was Herbert Huncke. I'm not much one for these junkie guys, but Huncke was a trip. He was SO nice, so friendly — the most personable people-loving people-person you could ever meet. But it was the guy's cadence, how he spoke — it's no wonder Jack & Allen & Company totally dug this guy. Whereas I tried to talk to mumbly Burroughs a few times, but that guy was as freakin' weird and misanthropic as he comes across. The adding machine magnate's grandson in the grey flannel suit may have been a Queer and a Junkie, but other than that he sure didn't seem to have much in common with the other Beats I knew and loved — not the same celebration of life, joy, optimism and gushing compassion in his heart.
Although Huncke may have shared some of Bill's proclivities and orientations, he was personable and gentle and open in his own peculiar way. Just a few degrees shy of being locked in a federal pen, he was a total character — and that was this constant commonality to most of the people in ol' J.K.'s life. Odd ducks. As a novelist, Jack magnetized to these people as fodder for his fiction. Whereas Allen was sort of a businessman, a promoter, a former market research man, and Gregory was a bit of an aggressive hustler and loose cannon, Huncke was absolutely "one of us," not intimidating in stature or demeanour, but a guy you could sit with for hours and he'd never disagree with you and would engagingly listen to whatever your story was. If anybody in this whole batch of aspiring Buddhists was living in the calm sea of nirvana … it was Herbert Huncke.
=================================================
For more from the Boulder Beat Book — check out Who All Was There.
Or this other part about Jack's wife Edie and best pal Henri.
For a vivid account of being at the historic "On The Road" scroll auction — check out The Scroll Auction.
For a story about the London "On The Road" premiere at Somerset House — check out this sex & drugs & jazz.
For a great story of the world premiere of the new shorter final version of "On The Road" — check out this Meeting Walter Salles Adventure!
For a complete overview of all the Kerouac / Beat film dramatizations including clips and reviews — check out the Beat Movie Guide.
For an inspiring and colorful description of being at a Beat jazz-&-poetry reading in Greenwich Village — check out Be The Invincible Spirit You Are.
For a story about Henri Cru's birthday — check out The Legend Turns 70.
For a beautiful poem to Carolyn Cassady on her birthday — check out the Carolyn Cassady Birthday Poem.
For an account of the historic Beat show at the Whitney Museum in New York — check out Wailin' at the Whitney.
 ==============================================
by Brian Hassett
karmacoupon@ gmail.com     BrianHassett.com